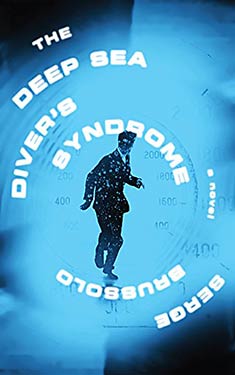 We begin in media heist.
David Sarella works with a trusted crew. His accomplice Nadia is a gorgeous redhead dressed in black leather. Jorgo may be a bit simple-headed, but he is an excellent driver. They plan to break into an upscale jewelry store in an exclusive shopping district and empty the safe. Their immediate problem is that the sleek, black automobile they have chosen for this escapade is transforming into a shark. The metal frame has become slimy and the fish smell is unbearable. These are "stability issues," and Nadia's job is to monitor David, to see that he takes the proper maintenance drugs. The team is operating at a depth of 3300 feet, but they are already rising. David must complete the theft before he is forced to surface.
David is a master thief but a professional dreamer. In Serge Brussolo's near-future Paris, mediums like David enter their dream worlds, perpetrate their crimes, and bring back their takes to the waking world. David's dreams are informed by the pulp fiction he's read since childhood, and the dreaming process is, as for most mediums, experienced as a plunge into ocean depths. He absconds with jewels that on the surface manifest themselves as mounds of ectoplasm, that white sticky stuff nineteenth century mediums supposedly exuded from their mouths, noses, and other orifices during séances.
But David and his fellow dreamers are not fakes. Their ectoplasmic creations, delicate a newborns, get whisked away for quarantine and testing. Once they are stable they go onto the art market, a market they have destroyed and transformed. Museums have sold off their collections of old art to junk dealers and replaced paintings and sculptures with ectolplasmic abstractions, the most accomplished of which sell in auction for millions. Our hero is not in that league. He makes a living as a minor artist whose works end up in museum gift shops. He's more or less made his peace with that, but he is facing a crisis. Recently he's come up empty handed after his dives, and some of what he has brought back is too feeble to make it past quarantine. His is the uncertain future of a failed artist.
Readers are left wondering for the first half of the story just what is the deal with this new art form? The descriptions of the objects are vague and not particularly appealing, but we learn that these creations make people feel good. They can make them feel really good. Even David's tchotchkes lighten the spirits of those who collect them. A major work, like the monumental creations of Soler Mahus, can transform lives. David goes to revisit Soler's magnum opus in its permanent public installation.
The great dream that had stopped the war had sat enthroned on Bliss Plaza for five years…It's presence had driven up the apartment prices in the neighborhood, everyone wanting to live close to the work to benefit from its soothing emanations…residents in buildings overlooking Bliss Plaze were totally free of psychosomatic complaints. Better still: incurable diseases had completely vanished in a three hundred yard radius of the oneiric object. The lucky few lived with their windows open, naked most of the time…Those without the means to rent apartments nearby made pilgrimages to Bliss Plaza…a silent, naked crowd sprawled on the steps and grass.
As a practicing dreamer, David also knows the downside of ectoplasmic art. The objects have a shorter shelf life that of the old art. When they begin to decompose they not only stink, they become sticky and toxic. Art disposal is a growth industry, but there is a "finger in the dike" element to its struggle against a growing mountain of fetid art. And then there are the health problems faced by its creators. All that ectoplasm can never be fully expelled, and build up over time causes esophageal and pulmonary issues.
On one level, Brussolo's novel is a satire on the distinctly Parisian vision of the starving artist in his garret, the failed genius in feverish pursuit of a vision that remains beyond his grasp. Despite his lessening powers and declining health, David cannot forsake his dream world, which is admittedly more vivid than the drab life he lives between dives. He will be willing to risk all for a final plunge to a greater depth than any dreamer has either ever attempted or lived to tell about.
The publishers describe The Deep Sea Diver's Syndrome as a "visionary neo noir thriller." There is a trace of marketing legerdemain here. David may be a trapped man in a system that once supported him and that now has little use for him, but Brussolo doesn't employ the mounting tensions of David's predicament to build suspense or a sense of panic. He creates an inventive progression of scenes that illustrate aspects of this bizarre world. The novel might better be described as "entertaining and very cerebral science fiction," which admittedly doesn't have the ring of "visionary neo noir thriller."
The good news for readers who find they like Brussolo's technique and vision is that in France he has published somewhere in the neighborhood of 200 novels. The bad news is that this is his only work to have made its way into English, and there are no plans in place for future translations.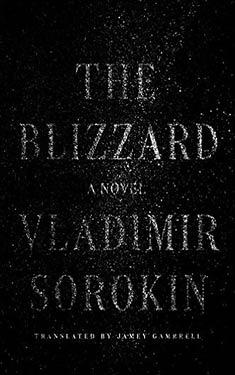 Whenever I review of a foreign language work of speculative fiction, I find myself including a statement reflecting my certainty that readers of the work in its original language – Russian, Spanish, Estonian, whatever – have a fuller experience of its subtleties, humor, and imagery than I. That statement usually comes towards the end of the review, but with Vladimir Sorokin's The Blizzard, I have decided to put it up front. I feel certain that his Russian readers have a – well, as I said.
It helps to learn that Russian readers, by the time they reach adulthood, have received a steady diet of "lost in the snow" narratives. The motif appears in fiction, verse, and folklore, and the stories almost always end poorly for their protagonists. The Blizzard opens with Dr. Garin, who is desperate to find transportation for himself and his serum to the plague-struck village of Delgoye, learning that snow has shut down the railway. It's a set-up that will prompt Russian readers to think, "Here we go again."
The forested, rural setting seems nineteenth century, and the frantic Dr. Garin, with his pince-nez and mustache, steps out of a Chekov story. That atmosphere continues when Dr. Garin learns that Crouper, the peasant who handles local bread deliveries, may have horses and a sleigh available. He approaches the man, who does indeed have horses. He has fifty of them. This is a reasonable number, since they are the size of partridges, and they propel his sleigh by running inside a drum. The doctor convinces Crouper to undertake the journey, which in normal circumstances would take only a few hours. The village will be saved from what we learn about this time is an outbreak of zombies caused by a virus brought back from Colombia. The dead are tunneling through the village, breaking into homes, and infecting the living. Dr. Garin does not approve of foreign travel.
Sorokin is one of the most popular contemporary novelists in Russia. His work employs fantastic elements in narratives that range from traditional science fiction to the sort of weird environment he builds in The Blizzard. It is never clear if he has set this tale in an alternate nineteenth century or some future that has devolved into a combination of new technology crippled by a collapsed infrastructure. (Thanks to another review, I learned that there are internal clues that place the story in our own present day.) One development running throughout the story is the twin phenomena of biological miniaturization and gigantism. Crouper's tiny horses are distantly related to horses the size of small apartment blocks. These are used to haul trains that no longer have a power source. On their journey, Garin and Crouper take refuge in the home of a miller the size of a samovar. Garin has a sexual encounter with his full-sized and delectable wife. One of the men's many road accidents occurs when a runner of their sleigh crashes into and breaks off in the nostril of a dead giant.
The details of all this are enjoyable and expertly drawn, even if their import remains vague. Dr. Garin becomes increasingly unsympathetic, his humanitarian zeal a cover for his temper, condescension, and poor impulse control. My sympathies all went to Crouper and his tender concern for his hard-working horses. You don't have to be Russian to guess that this trip into the snow will end badly. But again I find myself wondering if a Russian reader finds all this more than a mildly entertaining curiosity.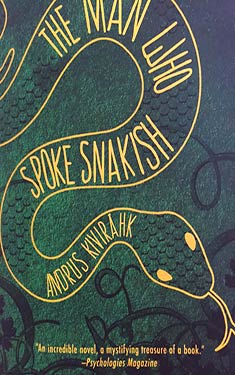 Leemet is a young man of the forest people. When he was a child, too young to remember the experience, his parents had made the move to the village. His father learned to work the fields and even developed a taste for bread, but Leemet's mother became bored and could not adjust to village life. This made her easy pickings for a bear, those lotharios notorious for stealing away human wives. When Leemet's father caught his wife and her lover in flagrante delicto, the startled animal bit his head off. Leemet's mother, subsequently abandoned by the bear, returned to the forest with her infant son.
For Leemet this has been a good thing. His life in the forest is fun and adventurous. His uncle is one of the last fluent speakers of Snakish, the language that allows humans to communicate with snakes, those wisest of forest inhabitants, and exercise control over other animals. Without Snakish, it is difficult to maintain an adequate herd of wolves, and wolves are needed for both transportation and their milk. Leemet masters the ancient language, and he spends his days with human friends his own age, his older male relatives, and the invaluable snakes who offer both advice and the warmth of their burrows in the winter. He is also friendly with the primates, an older hominid species who has not left the trees and spend most of the time breeding wood lice the size of sheep.
Andrus Kivirahk is the most popular contemporary author in Estonia, known as a satirical journalist and a bestselling novelist. This novel, which appears to take place in a fantastic version of his homeland during the early middle ages, is his first to be translated into English. It is an engaging tale of old ways giving way to modernity, filled with episodes of comic invention, family drama, young love, and the sadness of old traditions giving way to a modernity that offers much but exacts a stiff toll.
Leemet is the perfect hero for such a tale, a tenth-century, Estonian Huckleberry Finn. Despite his snakish wisdom, he can be very naïve. He perceives the armored knights that come from across the sea on their armored horses as single, metallic creatures. He is surprised to discover how relatively easy they are to kill. The obese, berobed monks who accompany them he assumes are their ever-pregnant wives.
Leemet may be naïve, but he is not stupid like those who have abandoned the forest for the village. Village dwellers, vehement about their newly acquired civilized skills and Christianity, believe all sorts of superstitious nonsense about the forest and its supposedly demonic denizens. And they rejoice in their subservience to their German-speaking masters. The village leader was taken as a young man across the sea for training in civilization and the new religion. When he speaks with pride of his time spent as the bedmate to an archbishop, Leemet cannot help but feel that there is something off about this arrangement.
But Kivirahk's novel will be the story of sad, funny, and inevitable change. As I read it, I wondered what added resonance it had for its Estonian audience, who have taken it so to heart that a popular board game has been created around it. For English readers it is a thoroughly enjoyable historical fantasy and an introduction to a major European writer.
(I received an advanced ebook of this title from Net Galley.)