WWEnd Top 25 Reviewers:
1. valashain
(330)
2. charlesdee
(272)
3. Allie
(158)
4. divinenanny
(108)
5. spoltz
(98)
6. spectru
(97)
7. couchtomoon
(86)
8. Triseult
(73)
9. Badseedgirl
(69)
10. dustydigger
(68)
11. Thomcat
(66)
12. ed.rybicki
(63)
13. Rabindranauth@DDR
(63)
14. nightxade
(58)
15. pauljames
(57)
16. Rhondak101
(56)
17. justifiedsinner
(52)
18. thrak
(51)
19. ScoLgo
(48)
20. Linguana
(47)
21. DrNefario
(47)
22. Tar Daddoo
(46)
23. daxxh
(44)
24. jfrantz
(44)
25. Emil
(43)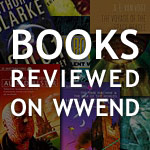 Last week, Worlds Without End passed 4,000 book reviews! You may recall that at the end of January we announced 2,500 reviews which kind of puts into perspective how fast our review database is growing. We've had over 1,500 reviews posted in just 8 months! Our hats are off to our 331 members who have put so much time and effort into these great reviews and we want to especially recognize our top 25 reviewers who have gone above and beyond.
Click any avatar on the right to find a list of all the reviews for each of our top reviewers.  See our Books Reviewed on WWEnd list for all the books in our database that have been reviewed thus far.
Of course we know how you like your stats so we broke down the data for your entertainment and edification.
Book Reviews
Total
Male
Female
Total Reviews
4,014
2,494
1,615
SF Reviews
2,411
1,713
743
Fantasy Reviews
1,413
633
824
Horror Reviews
260
179
87
Actual Books Reviewed
Total
Male
Female
Total Books Reviewed
1,882
1,227
663
SF Books Reviewed
1,019
747
274
Fantasy Books Reviewed
729
375
360
Horror Books Reviewed
172
121
51
Authors Reviewed
Total
Male
Female
Total Authors Reviewed
736
430
306
SF Authors Reviewed
413
270
143
Fantasy Authors Reviewed
362
169
193
Horror Authors Reviewed
104
65
39
Please note:  The male and female numbers refer to the authors' gender not the reviewers.  Some of the numbers above don't match up exactly because some books are listed in more than one genre and some books are co-authored by male and female authors etc.
Most Reviewed SF Books:
Most Reviewed Fantasy Books:
Most Reviewed Horror Books:
As you can see, Science Fiction book reviews lead the way with almost 1,000 more reviews than in Fantasy while Horror, which is relatively new to WWEnd, lags far behind with fewer than 300 reviews to date. I would have guessed our Fantasy reviews would be closer to even with our SF reviews so those numbers are a little surprising.  There does not seem to be a whole lot of cross-over from SF/F to Horror but 259 still seems a bit lower than expected.
There is an interesting mix of old standbys and newer works in the most reviewed books lists. Ancillary Justice tops all books with 26 member reviews which is pretty amazing considering it came out just last year.  I like that The Demolished Man and The Stars My Destination, both with 16 reviews each and both personal favorites of mine, made it into the top reviewed SF list.
The most reviewed SF books list is an even break between books by men and women authors whereas the Fantasy list is all women authors aside from Neil Gaiman and China Meiville.  The Horror list is more male dominated but it's a much smaller number of reviews than the other lists.  I wonder how that compares to other sites?
What do you make of these stats?  What points of interest can you find in them?
Thanks again to all WWEnders for sharing their thoughts on the books they've read.  I hope visitors to our site find these reviews helpful in finding great books to read!