Last week we reached a new milestone on WWEnd:  2,500 book reviews!    You may remember we just celebrated our 2,000th review in September.  Since that time we've been bringing in well over 100 reviews a month which is just amazing!
A good many of these reviews are the result of our reading challenges and our new Roll-Your-Own Reading Challenge promises to bring in more reviews than the 2013 Women of Genre Fiction did.  After only 1 month we already have 55 reviews!  The challenges have also been a driving force in bringing in new members who often bring with them a back catalog of reviews to share with us.  We've got 88 new WWEnders for 2014, mostly for the RYO, and we expect that number to keep growing.
This is a great achievement for our community and we have to say thanks to all our members who have been contributing their time and talents to WWEnd.  This is also a good time to recognize our top 10 reviewers.  You can see by their numbers just how far above and beyond these folks have gone in supporting our community.
Oh, and the 2,500th review?  That was submitted by none other than Charles Dee Mitchell, our number one reviewer by a long way, for Conscience of the Beagle by Patricia Anthony.
Thank you all again and here's to the next 2,500!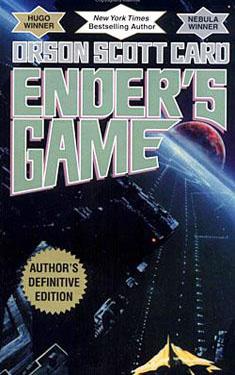 We've just added a new list to WWEnd that we think you're going to enjoy.  It's such an obvious list that it took a request from one of our members to make us realize we had missed it.  Thanks, Oaks Lab!  So check out the WWEnd Most Read Books of All-Time list.  On the list you'll find all the books that has been marked as read at least 100 times by our members sorted by number of reads along with the number of reads for each book.  The list is 264 books long and will keep growing and changing as we get more members and more books tagged.
At the top of the list are some of the books you would likely expect to see with Ender's Game (733 reads) edging out Frank Herbert's Dune (701) for the top spot with a pretty strong lead over the rest of the pack.  Neal Gaiman's American Gods comes in third with 523 reads followed closely by the single volume The Lord of the Rings (512).  We have LoTR as 3 separate books as well and you'll find all three of them in the top 40 not to mention The Hobbit at number 9.
Here are the top 10 most read books on WWEnd with the number of reads for each:
Nothing really surprising in the top 10 of course, though I had expected to see Harry Potter in there.  For the record, the Potter books come in at 11, 13, 19, 40, 50, 51 and 53 which is pretty impressive.  You'll have to check the list to see the order.
It's an interesting list to peruse and serves as a pretty good snapshot of what we read as a community within the larger genre community.  If you're a member you can see right away how many of the most read you've read yourself and your total will show on your reading stats page too.  The stats page tells me I've read 78 (30%) from the list which is not too bad.
So what do you think of this list?  Any surprises for you on down the list?  What kind of info can you glean from it?  How many have you read from the most read?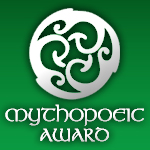 Today we're happy to announce the addition of the Mythopoeic Award to the Worlds Without End database! The award is administered by the Mythopoeic Society, and organization dedicated to the study, discussion, and enjoyment of fantastic and mythopoeic literature.  Here's the award description from their website:
The Mythopoeic Fantasy Award for Adult Literature is given to the fantasy novel, multi-volume novel, or single-author story collection for adults published during the previous year that best exemplifies "the spirit of the Inklings". Books not selected as finalists in the year after publication are eligible for a second year. Books from a series are eligible if they stand on their own; otherwise, the series becomes eligible the year its final volume appears.
Of all the awards we could have added this one, by far, garnered the most interest and support from our members. Once you take a look at it, especially with the cover image gallery, you'll see why. There are more classics and fan favorites than you can shake a stick at. You'll find Richard Adam's classic Watership Down, John Gardner's masterwork Grendel as well as a handful of Earthsea books from the incomparable Ursula K. Le Guin – just to name a few of the 191 books on the list.
It's been a long time coming but it has certainly been worth the wait.  Let us know what you think of this new addition and don't forget to check your reading stats page to see how you fare for this award.  We just got the last hundred or so books for the award added to the site so you may have some tagging to do.  My record is not worth mentioning so it's highly likely that yours is far better.  Let us know much better in the comments below.  Enjoy!

Well, it's Halloween and our second annual WWEnd Month of Horrors has come to an end. I think it's been a pretty good month for horror on the site with many great reviews and some huge updates. Since this is our last post of the month, I thought I'd sum up how things went.
Jonathan kicked things off with a nice Month of Horrors 2012 introduction where he talked about the human need to explore fear through fiction, and mentioned some of our goals for the MoH.  We followed that up with our first big enhancement: inclusion of The Shirley Jackson Award which was "established for outstanding achievement in the literature of psychological suspense, horror, and the dark fantastic."  This is our second horror award after The Bram Stoker Award which we added during last year's MoH.
This year we posted  a bunch of horror book reviews from many of the WWEnd regulars:
Add to those reviews excellent posts on the origins of some seminal horror works:
I did a post about some of the Horror Magazines that are out there for your spine tingling pleasure including a brand new one that launched on October 1st called Nightmare Magazine.  Speaking of which, we contacted the publishers at Nightmare and talked them into helping us develop a new horror list for the site which resulted in the Nightmare Magazine's Top 100 Horror Books list.
And finally, we end the month with another new award for the site.  We've been having a great time with the Grand Master Reading Challenge all year, and when we realized there was a Grand Master award for horror we knew we had to add that as well.
The World Horror Convention Grand Master Award is a yearly distinction given to an author who has contributed greatly to the field of horror literature.  Nominees must be alive at the time of voting, and cannot have previously won the award. The award is given at the annual World Horror Convention.  Even though the MoH is over, we'll still be adding new books by these authors as well as others, so you can keep finding all the thrills you crave right here on WWEnd.
Well, that's it.  I hope you've enjoyed the series and the improvements to the site.  I'd like to thank everyone for pitching in to help us pull this off so handsomely.  It was a lot of fun.  The Month of Horrors will be back again next year, same bat-time, same bat-channel!
Welcome to our first WordPress driven blog post!
Normally, when we announce new updates to the site, it's something (we think is) exciting and new, like a new interactive book-tracked list, a cool reading contest, a nifty way to rank authors, or (my favorite) BookTrackr.
This time, however, we have announcement that is both exciting and mundane.  Yes.  That's right.  Worlds Without End has finally ditched its 1990s-style blogging/commenting engine (you know, the one that made you type twisted captcha words and blew up if you used the wrong keys from, you know, your keyboard) in favor of WordPress.  Yes.  We know.  WordPress has been around probably longer than WWEnd has.
So…no.  This news isn't exactly cutting edge.  It does, however, mean that our blog will act like every other blog you know, which means we can clip some of those dissertation length posts, and the interface won't have those eccentricities that get in your way.  So, huzzah!
BTW, relatively invisible changes (like this WordPress transition) are much much harder to do than the whiz-bang interactive stuff that people like so much.  I know it seems like BookTrackr would be harder to make (from scratch) than integrating a plug in blog, but Chris (our hard working tech guru, a.k.a. Whargoul) begs to differ.  So, thanks to Chris, Jonathan and Dave for ensuring that I never have to edit apostrophes out of my comments (or guess at captcha words) again!
Do bear with us as any new site feature, such as this, will require a learning curve on our part.  We will be tweaking it over the coming weeks.
UPDATE:  If you're having any difficulties with your RSS feed reader, here is the link to the new feed: http://blog.worldswithoutend.com/feed/
I love a good list. From Letterman's latest Top Ten to IMDb's Top 250 Movies to the FBI's Ten Most Wanted I can't get enough of them. Especially book lists! They fascinate and infuriate in equal parts and provide endless points for discussion and contention among fans. Especially when the list purports to be the "best of" something or other.
Genre fiction is replete with "best of" lists and based on your response to the 20 SF/F/H Lists we have here on WWEnd it seems you folks can't get enough of 'em either. No sooner do we post a new one than we start getting calls for another! I love it. There are so many out there I doubt we'll ever run out of new ones and since each list offers a different take on what's best we're perfectly happy to keep adding more.
We've added some new ones recently–including one just yesterday–that you guys asked for specifically and we wanted to let you know they're up. Enjoy!
---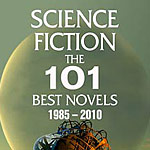 Damien Broderick and Paul Di Filippo's book list, from their new book Science Fiction: The 101 Best Novels 1985–2010, is a continuation of David Pringle's Science Fiction: The 100 Best Novels. Pringle passes the torch in a foreword to the new volume: "Having been unable to keep up with all those new SF works myself, I am delighted that Damien Broderick and Paul Di Filippo have taken it upon themselves to do the job, and I am very happy to endorse their excellent book."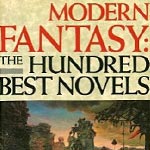 David Pringle has written several guides to science fiction and fantasy. His famous book, Science Fiction: The 100 Best Novels, is a highly regarded primer for the genre. In 1988 Pringle followed up with his Modern Fantasy: The 100 Best Novels (1946-1987). Primarily the book comprises 100 short essays on the selected works, covered in order of publication, without any ranking. It is considered an important critical summary of the field of modern fantasy literature.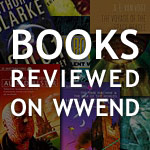 Worlds Without End has over 800 reviews of some of the best books in science fiction, fantasy and horror. These reviews have been submitted by our members and range from simple opinions ("This book sucked!") to well reasoned technical reviews of some of your favorite genre books. We've created this list so you can find all the reviewed books in one place and, if you're a logged in WWEnd member, you can use BookTrackr™ to easily find reviews for any of the books you've read.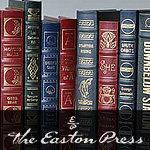 Today we added a new book list to WWEnd: Easton Press Masterpieces of Science Fiction. From the Easton Press website:
Masterpieces of Science Fiction spans the entire history of the genre and encompasses an extraordinary range of work… from Jules Verne and H.G. Wells to Isaac Asimov, Arthur C. Clarke, and more.
Easton Press puts out those amazing leather-bound books you've probably lusted over at one time or another. I've got a few in my collection and I'm always on the lookout for more – if the price is right. I shudder to think what the whole set must cost!
While we don't have the actual Easton Press cover images for the list the 139 books on it represent some of the best in genre fiction under any cover.
Take a look and let us know what you think. How many of these have you read? How do you think it compares to some of our other Book Lists?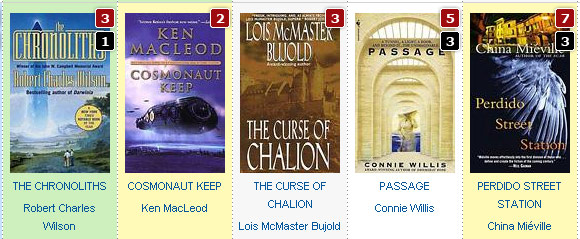 You may have noticed a few changes around WWEnd lately. We've been hard at work pushing out new updates as fast as we can. We just finished a major push to update our Horror coverage with the addition of The Bram Stoker Award and the HWA Reading List. That's a couple hundred more of the best books to pick from my friends!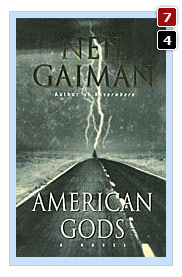 And since finding the best books is what this site is all about we've just added a new feature to our BookTrackr™ that we think you're really gonna like. You've probably already noticed the new numbered icons that appear on the book covers in the awards pages and elsewhere on the site. These new info icons are designed to help you identify the most celebrated books, at a glance, from amongst the thousands of books in our database. The red icon represents the number of award nominations that book has received, across the 11 awards we cover, while the black icon represents the number of Book Lists that the book appears on.
In the example above, which happens to show the nominees for the 2002 Hugo Award, you can see that all 5 books received multiple nominations but China Mieville's Perdido Street Station has a whopping 7 nominations and is included in 3 out of our 14 book lists! The yellow highlight indicates that it's on my reading list. Can you guess why? The book that won the Hugo in 2002, Neil Gaiman's American Gods, boasts a 7/4 and is one of my favorite fantasy books.
These numbers do more than just show nominations and lists, however. They reveal all kinds of interesting and useful information that you can use to find the books you want to read. For example, if you're wanting to try Vernor Vinge you would find A Fire Upon the Deep at a 4/4 to be pretty tempting.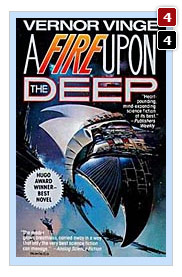 You can even see which years an author was hottest. Take a look at Gene Wolfe to see what I mean. He's been hugely popular for many years but was absolutely killing it in the early 80′s in particular. Stephen King has nominations for 25 of the 29 of his books in our database which is a pretty clear indication of his consistent quality.
Say you want to try a cyberpunk novel but you don't know where to start. You can go to our sub-genres page, click on cyberpunk to get a list of all the books that have been tagged as cyberpunk. Now you can look for the books with the highest number of award nominations and list appearances. Neuromancer at a 5/7 looks like a pretty safe bet. Of course, an 8 1/2 rating from 131 member votes will further that impression too.
Some other indicators that have become apparent are that higher award noms tends to indicate a more recent book. There are more awards now than there were in the past so there's a better chance of getting multiple nominations. The converse of that is that the books with a higer number of book list appearances tend to be older works because they have been more widely read over the years. They've stood the test of time as it were. Frank Herbert's classic, Dune, is a great example. It has only 2 award nominations, from a time when there were only 2 awards, but that's offset by 7 book list appearances! They don't call it a classic for nuttin'!
These numbers can be found on all the awards lists, the author and publisher pages as well as the search page right now. We'll be adding them to the book lists pages and the members lists next so stand by for that update in the next few days. Take a look at this new feature and let us know what you think. What other useful information can you glean from these numbers? How do your favorite books stack up in noms and lists?
You may have noticed on the novel page that a new button sometimes appears underneath the cover image. Worlds Without End has started including "Add to Amazon Kindle" buttons for those titles that are available on Amazon electronically. You will see this button more and more as we update our database. Once this project is completed, we'll look at adding Nook, ePub, and mobi editions (where available)
This is our second push for ebook support. The first came a few years ago, when we added the public domain ebook list, where you can download dozens – destined to be hundreds – of public domain books to your ebook reader or computer.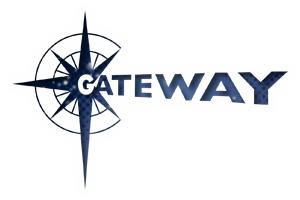 Just as we begin to get serious about adding these links to our site, we hear that Gollancz, the second winningest publisher in our database, is taking many of their out-of-print classic books and making them available as ebooks. The SF Gateway website is going to be "the world's largest digital SFF library." We couldn't be more thrilled, since several of our (especially Hugo) winning titles have been out of print for some time.
Now, for your perusing pleasure, here is a list of authors, or their estates, who have already decided to release their corpus for digital reading:
Poul Anderson • Barrington J. Bayley • Gregory Benford • Michael Bishop • James P. Blaylock • James Blish • Marion Zimmer Bradley • John Brosnan • Fredric Brown • John Brunner • Algis Budrys • Kenneth Bulmer • Edgar Rice Burroughs • Pat Cadigan • John W. Campbell Jr • Terry Carr • Arthur C. Clarke • Hal Clement • D.G. Compton • Michael G. Coney • Edmund Cooper • Richard Cowper • John Crowley • L. Sprague de Camp • Samuel R. Delany • Philip K. Dick • Gordon R. Dickson • Christopher Evans • Philip Jose Farmer • John Russell Fearn • Alan Dean Foster • Mary Gentle • Mark S. Geston • Joseph L. Green • Colin Greenland • Nicola Griffith • Joe Haldeman • Harry Harrison • Frank Herbert • Philip E. High • Robert Holdstock • Cecelia Holland • Robert E. Howard • Raymond F. Jones • Leigh Kennedy • Garry Kilworth • Damon Knight • Henry Kuttner • Tanith Lee • Murray Leinster • H.P. Lovecraft • Katherine MacLean • Barry N. Malzberg • Phillip Mann • David I. Masson • C.L. Moore • Ward Moore • Edgar Pangborn • Frederik Pohl • Rachel Pollack • Tim Powers • Mack Reynolds • Keith Roberts • Eric Frank Russell • Josephine Saxton • Bob Shaw • Robert Silverberg • Clifford D. Simak • Dan Simmons • John Sladek • Cordwainer Smith • E.E. "Doc" Smith • Norman Spinrad • Olaf Stapledon • Theodore Sturgeon • William Tenn • Sheri S. Tepper • James Tiptree Jr • E.C. Tubb • George Turner • Harry Turtledove • Jack Vance • Ian Watson • Ted White • Kate Wilhelm • Connie Willis • Robert Charles Wilson • Gene Wolfe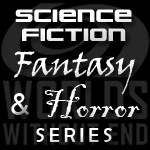 Most Science Fiction and Fantasy fans like a good series. Once we find a book we like we want to return to that universe time and again for more great adventures with the characters and settings we already know. Of course, Science Fiction and Fantasy authors and publishers are only too happy to indulge our obsession. Indeed, single stand-alone books are becoming a thing of the past with trilogies or better being the norm. More is more these days.
Our new list of Science Fiction & Fantasy Series contains all of the series in the WWEnd database for your easy perusal. So whether you're looking for a trilogy, tetralogy, pentalogy, hexalogy, heptalogy, octalogy, ennealogy or decalogy you've come to the right place. We've even got a trigintoctology for you serious gluttons.
Of course, if you're a WWEnd Member you'll be able to use BookTrackr™ to monitor your progress with the series you're reading and tag those that you want to read later. Check it out and let us know what you think of the list. What series have we missed that you'd recommend to your friends? Which series are your favorites? Full points if you can tell me how many books make up a trigintoctology and the name of the series we're referring to. Enjoy!