On his blog Stainless Steel Droppings blogger Carl V. Anderson reviews SF/F books and movies, conducts author interviews and even hosts his own reading challenge: The 2012 Science Fiction Experience.

---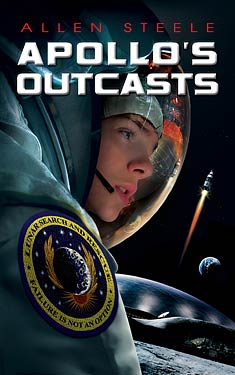 "On my sixteenth birthday, I went to the Moon."
This isn't the way it is supposed to be. Turning sixteen should be a special, memorable time for any teenager. It should be unforgettable. And for Jamey Barlowe, it was. In the early hours of the morning of his sixteenth year Jamey and his two older sisters are unceremoniously awoken by their father and rushed out of their home under cover of darkness. In the midst of the chaos and confusion the children are able to discover that the President of the United States is dead, an incident that is being reported as an assassination and the Vice President, Lina Shapar, is calling for the detainment of a group of American citizens that she believes may have had a part to play in the President's death, a group that includes Jamey Barlowe's father.
Jamey Barlowe was born on the moon. As a result he suffers from a condition that has left him crippled for the majority of his life. If Jamey ever dreamed of returning to the place of his birth it was not like this. But for Jamey and the five other young people leaving with him, this isn't a time for dreaming, it is a time for cold hard reality. Their destination is Apollo, a mining colony on the Moon, and although they are being sent their for their own protection they will soon discover that safety is all a matter of perspective and the Moon holds harsh challenges for each and every one of them.