Scott Lazerus is a Professor of Economics at Western State Colorado University in Gunnison, Colorado, and has been a science fiction fan since the 1970s. The Forays into Fantasy series is an exploration of the various threads of fantastic literature that have led to the wide variety of fantasy found today, from the perspective of an SF fan newly exploring the fantasy landscape. FiF examines some of the most interesting landmark books of the past, along with a few of today's most acclaimed fantasies, building an understanding of the connections between fantasy's origins, its touchstones, and its many strands of influence.
Editor's Note: This post counts as a WoGF review for purposes of the December review poll.
---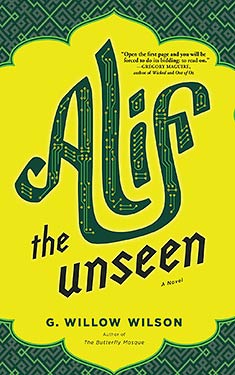 So far, these Forays into Fantasy have mostly ranged from the late nineteenth through the first half of the twentieth century. I'd previously read other seventeenth and eighteenth century fantasies recommended by Moorcock and Cawthorn in Fantasy: The 100 Best Books, a few of which are discussed in this post on the Gothic origins of modern fantasy. My goal for this reading project (along with, hopefully, reading some great books) has been to explore the history of the fantasy genre before beginning to review more modern fantasies, in order to give some historical context to what today's fantasists are doing. This post will be my first step into the landscape of modern fantasy, with a look at G. Willow Wilson's World Fantasy Award-winner Alif the Unseen (2012). A big part of the appeal and originality of this novel is its engagement with current issues in the Middle East. It seems that Wilson, while writing Alif, anticipated the events of the Arab Spring, and the role of computers and social media in those uprisings. But the story also partakes of a fantasy tradition that stretches back to one of the eighteenth century roots of the modern genre—the development of Arabian fantasy subsequent to the appearance of translations of the stories that came to be known as the Arabian Nights. This review may also be the first to make a connection between G. Willow Wilson and L. Ron Hubbard (though I'd love to know if anyone got there before me!).