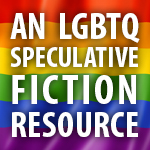 Here at Worlds Without End we love lists.  Lists of great books that cover the many different aspects of genre fiction.  And from time to time we'll add a new one to our ever growing list of lists that we get particularly excited about and this is one of those.  An LGBTQ Speculative Fiction Resource is our curated list of the best in lesbian, gay, bisexual, transgender, and queer speculative fiction.
This list was a project started by Uber User Stephen Poltz (spoltz) in reaction to our 2015 LGBT Reading Challenge when he could not find a good source for challenge books to read.  Steve cherry-picked the Lambda and Gaylactic Spectrum awards along with many other resources online and combined those books with some of our own member selections to create a list that we hope you'll agree is a great resource that highlights the works of an under-served part of our genre community.
The list is 178 books so far and we'll be adding to it as time goes on.  Check it out and let us know what you think.  Don't forget to check out the reading challenge too.  The 2015 edition is winding down with the year but will be back again in January with a new challenge.