Scott Lazerus is a Professor of Economics at Western State Colorado University in Gunnison, Colorado, and has been a science fiction fan since the 1970s. The Forays into Fantasy series is an exploration of the various threads of fantastic literature that have led to the wide variety of fantasy found today, from the perspective of an SF fan newly exploring the fantasy landscape. FiF examines some of the most interesting landmark books of the past, along with a few of today's most acclaimed fantasies, building an understanding of the connections between fantasy's origins, its touchstones, and its many strands of influence.
---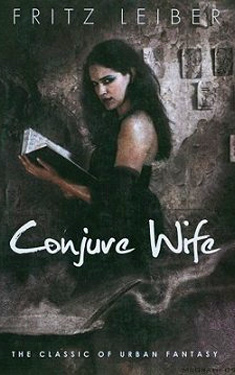 Fritz Leiber (1910–1992) is indisputably one of the most important science fiction and fantasy writers of the twentieth century, recipient of the Science Fiction Writers of America's Grand Master Award and the World Fantasy Award for Lifetime Achievement, as well as six Hugos and four Nebulas. His science fiction is some of the best of its era, including Gather, Darkness (1943), Hugo winner The Big Time (1958), and a series of great short stories for Galaxy during the 1950s. Despite his achievements in SF, he is better known today for his fantasy, due primarily to his sword and sorcery sequence featuring Fafhrd and the Gray Mouser, which began with "Two Sought Adventure" (aka "The Jewels in the Forest") in 1939, and continued throughout his long career (and which should be the subject for a future post in this series).
Leiber may also have been more comfortable writing fantasy, turning to science fiction at least in part due to the lack of fantasy publishing outlets following the demise of John W. Campbell's Unknown magazine in 1943, after which science fiction would dominate the genre magazine (and eventually the book publishing) landscape until the 1970s. Due to Unknown's market for sophisticated fantasy, the years 1939 to 1943 produced a disproportionate amount of great fantasy, much of which is still read today. Last year I wrote about three of these—Fletcher Pratt and L. Sprague de Camp's Enchanter stories, Jack Williamson's Darker Than You Think, and A. E. Van Vogt's The Book of Ptath—and as I return to this period in the history of fantasy, several additional Unknown stories will be looked at. Along with the first five Fafhrd and the Gray Mouser stories, Fritz Leiber's contributions to Unknown include the classic "Smoke Ghost" (1941) and the novel Conjure Wife (1943), which was first published in book form, slightly revised and updated, in 1952 as part of the omnibus Witches Three.