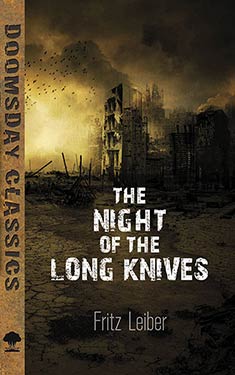 Dover Books has begun a new series of reprints called Doomsday Classics. Not the cheeriest series, perhaps, but they are pulling together a group of titles from the past 150 years that promises to combine academic interest with popular appeal for a broader science fiction readership. So far they have brought back into print Darkness and Dawn, a trilogy of novels from 1914 by George Allen England. England is largely forgotten today, but at the turn of the 20th century he was considered the American H.G. Wells. Also already on the shelves is Jack London's The Scarlet Plague (1912). Coming up is Robertson Jeffries After London, a piece of Victorian science fiction new to me. Japan Sinks (1995) by Sakyo Komatsu is major work of Asian science fiction currently out-of-print in English.
Their July 2015 release is The Night of the Long Knives, a disappointing effort by Fritz Leiber. Leiber wrote it as a short novel for the January 1960 issue of Amazing Science Fiction Stories, and it reads like a truncated version of what could have been a better, longer novel. Leiber sets up a convincing if by now familiar post-apocalyptic world, but the plot, such as it is, gets talked to death before it has a chance to take advantage of what Leiber is building on.
He opens with a scene familiar from classic Hollywood westerns, replacing the desert Southwest with an irradiated wasteland in the central United States. Two strangers warily approach one another, not sure if the next moments will bring bloodshed or comradeship. Actually, since this is a man and a woman, the option is bloodshed or sex, but even taking option number two will not discount resorting quickly to option number one. A propensity for murder has become second nature to those who wander the Deathlands. Leiber never satisfactorily explains why this is, but since he has created a first person narrator, such analysis would not be an option. Things just are the way they are.
The man and woman go for option number two, and the best part of the novel is their silent, methodical self-disarmaments, neither one willing to remove a weapon or an article of clothing until he or she is certain the other is making a similar concession. They also don't speak, talking not being an accepted Deathland first-date behavior. And in this bleak, poisoned world beauty criteria have changed. The man –whose name, by the way, turns out to be Ray, the woman is Alice – is self-conscious about his eggshell baldness, but he is attracted to Alice's radiation scars. One that traces a line from her eyebrow, across her forehead, and into her hairline provides "just the fillip" needed to make her beautiful. (Nice to think that after an atomic war the term "fillip" may make a comeback.)
This opening encounter takes up almost a third of the narrative, but things fall apart once it is over. Ray and Alice murder a handsome and to them offensively healthy man who shows up in a flying machine. They meet an old geezer they call Pop. He's a scrounger, possibly too cracked to be dangerous. The trio flies off in the dead man's aircraft that is preprogrammed to take them to the edges of the civilized zones where yet another war is in progress. There is little action and much boring talk. When the ship returns them to the Deathlands location they started from, they find the dying woman their civilized victim had come to save. There is more talk and the story winds down.
Leiber's novel is a mess starting with the title. Evoking the series of assassinations that secured Hitler's rise to power brings nothing to the narrative. The one other component that sparks any real interest is Pop's proselytizing for his newfound commitment to stop wholesale murder. He has found a group of like-thinking ex-murderers who get together informally to help one another fight the urge when it comes on them. The loosely organized band is setting up meetings across the Deathlands. Right now it is just men, but they are thinking they should admit women. They joke about calling themselves Murderers Anonymous.
Leiber was an alcoholic who sought treatment several times. Among the Leiber papers held by the University of Indiana, there are several folders dated 1960 that contain Alcoholics Anonymous material. I don't know how obvious or coded the AA references in The Night of the Long Knives would have been to readers of Amazing Science Fiction when the novel was published, nor what Leiber hoped to accomplish with their inclusion His recovery process must have been weighing heavily on his mind at the time, but Pop's enthusiasm and Ray's and Alices's cautious curiosity about what he has to offer becomes just another loose end in the hodge-podge of the novel.
I place The Night of the Long Knives among the Leiber works for completists only.
(This review is based on an advance ebook provided by Net Galley.)