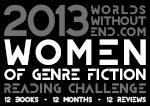 Allie McCarn (Allie), reviews science fiction and fantasy books on her blog Tethyan Books. She has contributed many great book reviews to WWEnd including several Grand Master reviews featured in our blog. Allie has just kicked off a new blog series for WWEnd called New Voices where she'll be reviewing the debut novels of relatively new authors in the field.
---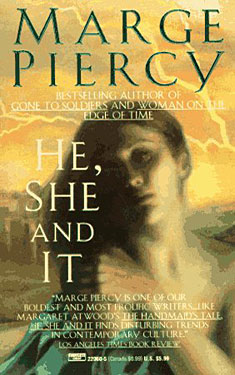 He, She and It by Marge Piercy
Published: Random House Publishing Group (1993)
Awards Won: 1993 Arthur C. Clarke Award
The Book:
"In the 21st century, the Earth is very nearly ruined. People live within domes or wraps, and most wear protective clothing to brave the toxic wasteland that the world has become. Most power resides with massive corporations, "multis," who expect the indentured employees within their domes to shape their bodies, minds, and cultures to the company ideal. A small fraction of the Earth's population are able to live in independent "free towns", through selling their skills and products to multis, instead of themselves. The unlucky rest of humanity lives in the violent, poisonous "Glop".
Shira Shipman has never embodied the physical or cultural ideal of her multi, and when custody of her young son is given to her ex-husband, she decides her future lies elsewhere. She returns to her childhood home of Tikva, a Jewish free town, where she has a new job aiding in the development of an illegal cyborg protector, Yod. As Yod struggles to understand his role in the world, he finds insight in a story of Prague's Jewish ghetto in 1600, about a famous kabbalist who once created a golem protector." ~Allie
Marge Piercy's He, She and It is my final novel for WWEnd's Women of Genre Fiction Reading Challenge. Marge Piercy is a poet and a novelist, and her works range from science fiction to other genres. I have read that her novels tend to focus on women's lives, and He, She and It (also published as Body of Glass) is no exception.
Rhonda Knight is an Associate Professor of English at Coker College in Hartsville, SC. She teaches Medieval and Renaissance literature as well as composition courses. This blog will outline her experiences teaching an Honors English Composition course about created entities, beginning with the golem of Jewish legend and continuing through cyborgs, robots, androids, and artificial intelligence.
---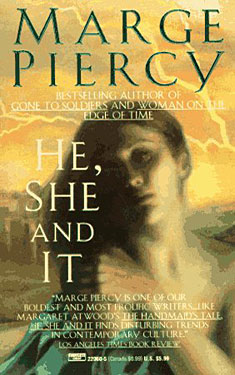 So… it's been a while. My jet-set life as an English professor has kept me from writing. In October, I attended the Popular Culture/American Culture in the South conference in New Orleans and the Blackfriars Conference at the American Shakespeare Center in Staunton, VA. The Popular Culture conference offered papers on many science fiction and horror television shows, such as Doctor Who, Lost, Torchwood and everything in the Whedonverse, and fantasy and science fiction authors, such as Susanna Clarke, Kurt Vonnegut, Terry Pratchett, Neil Gaiman, Nalo Hopkinson, Michael Chabon, and George R. R. Martin. One of the best papers I heard was on how Fox used trailers to react to the fandom of their Fringe Fridays.
While I was away hearing such papers and giving one on mystery novelist Martha Grimes, my students were reading and writing and thinking about Marge Piercy's He, She and It. This novel was a good hinge point for the semester because it effectively combines our golem exploration with our robot exploration.
For those of you who don't know, the book is set in a near post-apocalyptic future in which the world is run by corporate cities, called multis or enclaves, that exist inside protective radiation barriers. The bulk of the novel's action takes place in one of the few independent towns, Tikva. It is a Jewish enclave of computer programmers who create security programs for the multis. Their skill allows them to leverage freedom. Shira, a disfavored employee of a multi, returns to her hometown of Tikva to help Avram, a cyberneticist, train his illegally-created cyborg, Yod, to appear more human. Yod's purpose is to protect both the real and virtual borders of the town.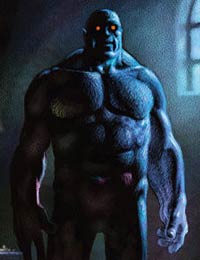 This future narrative is interpolated with a "bedtime story" that Malkah, Shira's grandmother, tells the cyborg, Yod. This story is about Rabbi Judah Loew and the sixteenth-century golem of Prague and draws parallels between Yod's role and that of Joseph, the golem in Malkah's story. I used these parallels as a starting point to discuss the role of Jews in Western history. I explained to the students the ways that medieval Christians created ghettos and forced Jews into the occupations of moneylenders and bankers. We then compared Tikva to a neo-ghetto in which the Jews are allowed to live free in order to provide the dominant culture with specific services. In addition, we compared the super-human traits of Joseph the golem, strength and healing ability, with those of the cyborg. One of the most interesting parallels that Piercy presents is the similar attitudes that the creators, Avram and the Rabbi, hold towards their creations. To them, the golem and the cyborg are tools that can be sacrificed, while the other characters view them as humans.
Our ability to question the human status of the golem and the cyborg gave us the opportunity to explore the "humanity" of many of the other characters. Now, when I say humanity here, I'm not thinking about the characteristics of being a good person, such as kindness, empathy, etc. Instead, I am thinking about humanity as informed by post-human studies. I recently read a book Cyberculture, Cyborgs and Science Fiction: Consciousness and the Posthuman (2006) by William S. Haney II. This book cited another author Katherine Hayles, who wrote How We Became Posthuman: Virtual Bodies in Cybernetics, Literature and Informatics (1999). Haney uses two passages from Hayles' book to define the posthuman.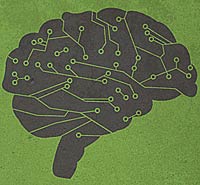 I pulled those two passages to guide our discussion. The first is "the posthuman view thinks of the body as the original prosthesis we all learn to manipulate, so that extending or replacing the body with other prostheses becomes a continuation of a process that began before we were born" (Haney 2). The second is "[i]n the posthuman, there are no essential differences or absolute demarcations between bodily existence and computer simulation, cybernetic mechanism and biological organism, robot teleology and human goals" (Haney 2).
The first passage is particularly relevant to He, She and It because most of the humans are technologically enhanced for cosmetic or occupational reasons. Shira tells Yod: "We're all unnatural now. I have retinal implants. I have a plug set into my skull to interface with a computer. I read time by corneal implant. Malkah has a subcutaneous unit that monitors and corrects blood pressure and half her teeth are regrown" (Piercy 150). The most interesting character is Nili, who is human but her body is so heavily modified with implants, sensors and lasers that upon meeting her the characters think that she is a cyborg. Her actions and lack of emotion continue to make her seem more robotic than Yod. Serving as a foil for the cyborg, Nili fueled our conversation about what makes one human, biology or actions. The students saw the enhancements that Shira discussed above as very sci-fi. However, I quizzed them about how nose jobs, breast implants, lasik eye surgery, pacemakers, and artificial limbs might relate to the first passage. We referred back to Asimov's The Bicentennial Man and wondered if humans might one day begin a process that is the reverse of Andrew Martin's so that we become less and less organic. This, of course, led us to mention the woman who's had so many plastic surgeries.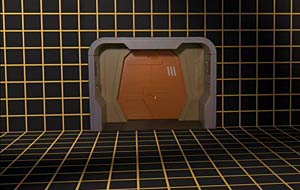 The second passage allowed us to touch on many subjects that are contemporary. In He, She and It the characters work and play through a virtual interface where they appear as avatars and are able to manipulate their environment. The septuagenarian, Malkah, maintains several virtual relationships in which she represents herself as both males and females with various ages and sexual preferences. This led us to all sorts of conversations about online dating, Facebook (especially the social games), Second Life, and other cyberworlds we can enter. We thought about the possibilities of becoming someone else in a cyberworld. These changes of identity are always seen as the moves that a pedophile or stalker uses. We tried to think about more benign reasons for adopting cyber-identities, because society is getting to the point in which one could live a complete cyber-existence by telecommuting and by using online banking, shopping and social networks. Someone brought up Lt. Barclay's holodeck obsession on Star Trek: The Next Generation as an example of a type of mental illness that could be developing because of our cyber-existences.
Like all good literature, Piercy's book poses several big questions throughout the plot, but those questions relate to her readers and our world as well as the world she created. The students, for the most part, found this book interesting and relatable.