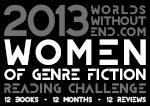 Sue Bricknell (SueCCCP) is an ex-pat Brit living in Maine. She has no real memory of learning to read and has always had a great love of fantasy. She blames this on her early introduction to the Tales of Beatrix Potter, which she had memorized by the age of four. From an early obsession with Fantasy she has expanded her interests into the Science Fiction, Mystery, Horror and Crime genres. Joining a local book group made her realize that she really likes talking about books, so she began her blog, Coffee, Cookies and Chili Peppers. She has recently had the good fortune to be hired as an assistant librarian, so now she can think about books even more!
---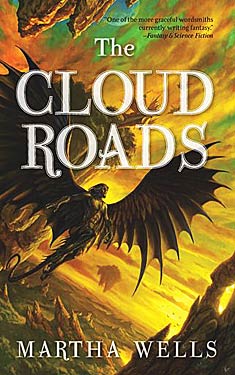 Martha Wells was an author that I had not come across until I read her Guest Post for Women in SF&F Month at Fantasy Cafe. Since then I have had her on my TBR list, but it finally took the Women of Genre Fiction Reading Challenge at Worlds Without End to put this book on my coffee table. I am only sorry that I ignored it for so long because it was a great read and I look forward to reading the other volumes in this series as well as more of Ms Wells' titles when I can fit them in.
One thing I always appreciate in Fantasy writing is a world that is well drawn, whether it is loosely based upon Earth at some point in its history or is totally alien. Ms Wells creates a pleasantly unique world, inhabited by a wide variety of interesting creatures and races inhabiting the three realms. Although we do not explore the sea at all, we see several examples of the groundling races, which show adaptations to various habitats and climates. They also display a variety or temperaments, beliefs and cultures, which were sketched out with sufficient detail without a heavy-handed need for exposition. By making Moon an outsider in almost all situations, Ms Wells was able to let us explore this world through his experiences and so the world building did not feel forced or boring.