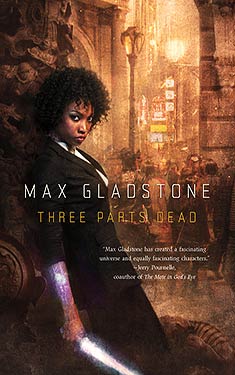 Three Parts Dead by Max Gladstone
Published: Tor, 2012
Series: Book 1 of The Craft Sequence
Max Gladstone (his website is here) published his first novel, Three Parts Dead, in October of last year, and his second novel Two Serpents Rise has just come out on October 29th!   Two Serpents Rise appears to be set in the same universe as Three Parts Dead, but this review will only cover Three Parts Dead, as I haven't had a chance to read it just yet. Three Parts Dead is impossible to sum up in a few quick sentences, both because there is so much going on in the novel and because there are so many fascinating characters!  The story was always brimming with energy, fresh ideas and cleverness.
In the world of Three Parts Dead, humans have learned to use godlike powers, resulting in a war against the Gods that almost destroyed everything.  Since then, Craftsmen and Craftswomen, who are trained in the Hidden Schools, draw power from earth and starlight to effect amazing feats of magic.  I was surprised by the mechanical and matter-of-fact tone of both Craft and deific power—they are described mostly in terms of law and economics.  For instance, a God's power is managed and increased sort of like a finance portfolio, with investments and returns.  Of course, if a God were to go 'bankrupt', it would have some more direct personal effects, like death.