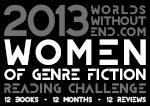 Nadine Gemeinböck (Linguana) has been reading fantasy for as long as she can remember. She started blogging about books on SFF Book Review in 2012, hoping to keep track of what she read and how she liked it. The book blogging community has since helped her open her literary horizons and thanks to WWEnd, she is currently working her way through NPR's Top 100. Her blogging resolution is to review more foreign language books and finally take the plunge into a big, swooping space opera.
Editor's Note: This review counts for November.
---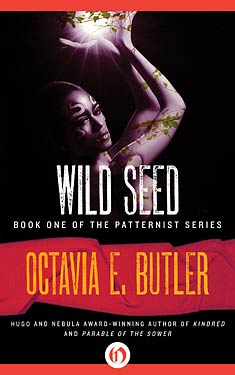 This year's Women of Genre Fiction Challenge has led me down many new paths. At first, I was only looking for female SFF writers that I hadn't read before. One name kept coming up: Octavia Butler. Later, especially with events like A More Diverse Universe happening, I looked into SFF writers of color. Again, Octavia Butler was mentioned probably more than anyone else. So, once again, I have the internet hivemind to thank for discovering an amazing writer.
When two immortals meet in the long-ago past, the destiny of mankind is changed forever

For a thousand years, Doro has cultivated a small African village, carefully breeding its people in search of seemingly unattainable perfection. He survives through the centuries by stealing the bodies of others, a technique he has so thoroughly mastered that nothing on Earth can kill him. But when a gang of New World slavers destroys his village, ruining his grand experiment, Doro is forced to go west and begin anew.

He meets Anyanwu, a centuries-old woman whose means of immortality are as kind as his are cruel. She is a shapeshifter, capable of healing with a kiss, and she recognizes Doro as a tyrant. Though many humans have tried to kill them, these two demi-gods have never before met a rival. Now they begin a struggle that will last centuries and permanently alter the nature of humanity.
When I picked up this book, all I knew was that it was going to be the first Octavia E. Butler book I would read and that I liked the cover (my entire basis for choosing this one over her other novels). I didn't know I would come out at the other end full of emotions and wanting more.