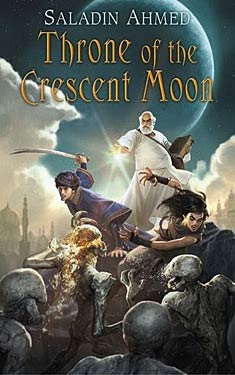 Throne of the Crescent Moon by Saladin Ahmed
Published : DAW Books, 2012
Awards Nominated: 2012 Nebula and 2013 Hugo awards
Awards Won: 2013 Locus Award for Best First Novel
Saladin Ahmed is a poet, as well as a writer of science fiction and fantasy, and he maintains a website.  While he has a quantity of public short fiction and poetry, Throne of the Crescent Moon is his first novel. Out of his short fiction, he was twice nominated for the John W. Campbell award for Best New Writer for "Hooves and the Hovel of Abdel Jameela", which was also nominated for a Nebula Award (and is available online).
Ahmed's first novel, Throne of the Crescent Moon, is a sword and sorcery tale set in an Arabic world, featuring a power struggle around the titular throne.  While magic is pretty common in the capital city of Dhamsawaat, the townsfolk are more concerned with the corrupt Khalif and rebellious Falcon Prince than any possible threat from ghuls or djenn.  As a result, professional ghul hunting has become a largely thankless task, though the elderly, messy, curmudgeonly hunter Adoulla Makhslood still risks life and limb to protect people from the occasional ghul.
Locus Magazine has announced the winners of the 2013 Locus Awards. The winners in the novel categories are:
The complete list of all categories is available on the Locus web site. Congratulations to all the winners and nominees! So what do you think of the results?