Scott Lazerus came to Worlds Without End looking for a good list of books. He found David Pringle's Best 100 Science Fiction Novels to his liking and is currently working his way through the list. He has posted man fine reviews for WWEnd including several for the GMRC. Be sure to check out Scott's excellent blog series Forays into Fantasy too!
---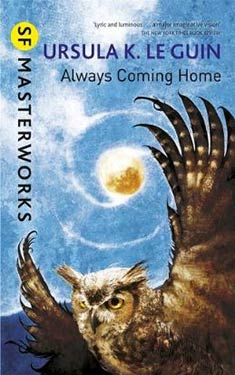 To borrow from the title of one of the first sections of Always Coming Home, this book is an "archaeology of the future." I purposely use the term book rather than novel, since the structure of Ursula K. Le Guin's 1985 work makes it more of a collage than a narrative, though it does tell a story, and it certainly has a theme. The story is that of an entire people—the Kesh, the People of the Valley, living in the far distant future somewhere in Northern California. A changed climate has created an inland sea east of the Valley, and the people who live there are still dealing with the legacy of the chemical wastes left behind by a long-gone civilization whom the Kesh think of as people "who lived outside the world" and whose poisonous lifestyle has led to their being remembered in legends and visions as people who (literally) had their heads on backwards.
The Kesh civilization may be the ultimate working out of Le Guin's utopian ideals. Her best-known science fiction novels—The Left Hand of Darkness and The Dispossessed—both posit alien societies that encourage readers to consider alternative gender roles and economic systems. Her subtitle for The Dispossessed—"An Ambiguous Utopia"—could apply just as well to Always Coming Home. The inability of the Kesh to comprehend a society like ours is due to their commitment to a post-industrial environmentally sustainable way of life (though they would never use such terminology, thinking of themselves as merely "living in the world"). That way of life—reminiscent of a settled Native American culture—is centered on a compatibility with nature. Nothing is taken that is not needed. The wealthiest are those who give the most, not those who accumulate possessions. A low human population density is scrupulously maintained. Communities are organized around both families and occupations, with each individual encouraged to pursue the work most amenable to her. Everyone works, and labor is not resented. Authority is entirely decentralized, and sexism is nonexistent. The Kesh are aware of the possibility of more advanced technologies, but choose not to pursue them, failing to see the point, and unwilling to sacrifice their environment. Their society works, and the reader understand why they would see us as "backward-heads." As in the other two novels mentioned above, Le Guin invites the reader to question our own society by asking us to consider the possibility of a workable alternative. One of the great attractions of science fiction is its ability to encourage us to consider how things could be different, and Le Guin does this masterfully in Always Coming Home, though not in a way that science fiction readers are used to.