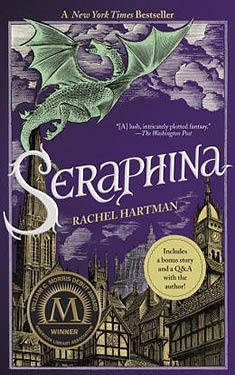 I have to admit that Seraphina by Rachel Hartman was quite an enjoyable read. There are dragons, there is murder, there is intrigue and there are secrets. And our protagonist, Seraphina, finds herself in the middle of it all while trying her hardest to not be noticed. Why does she not want to be noticed? Because Seraphina has a dangerous secret that makes her feel an outsider within her world, a secret that could bring her world crumbling down.
Seraphina is an intriguing character. She is a wonderfully talented musician and has a strong and forthright personality. She lives in a society where humans have been living in peace with dragons, for forty years. The dragons live amongst them and maintain a human form. But a story of easily maintained peace would likely be a boring story, wouldn't it? So when a much loved member of the royal family is found dead, with the cause of death looking suspiciously like dragon, the four decades of peace become threatened and our story unfolds.
The 2013 BSFA Award winners were announced at a ceremony last night at the 65th Eastercon at the Crowne Plaza, Glasgow.  In the Best Novel category we have a tie between Ann Leckie's Ancillary Justice and Gareth L. Powell's Ack_Ack Macaque.  Our congrats to both on the shared win.  To see the full results in all categories check out the official announcement on the BSFA website.
What do you think of this result?  Ancillary Justice seems like it's no surprise but what about Ack-Ack?  The cover has always intrigued me – I mean, what's not to love about a cigar-smoking, gun-toting chimpanzee airship pilot?
The 2014 Hugo Award nominees have been announced.  The noms in the Novel category are:
See the full list of noms in all categories on the official Hugo Award site.
So, it's the entire Wheel of Time series that is up for the best novel.  The Hugo rules allow a series to be eligible after the final volume has been published and as long as none of the books in the series were nominated individually.  The argument is that it's one long continuous story which is the same reasoning that lead to Blackout and All Clear being nominated as a single volume.  Interesting.  Will the legions of Jordan/Sanderson fans out there carry the award for them?
What do you think of this crop of nominees?  Anything strike your fancy?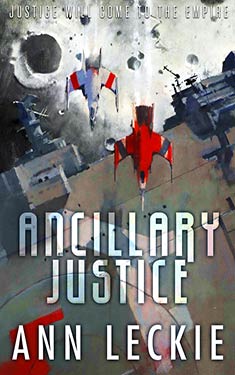 Ancillary Justice is a complex novel.  There are a lot of good ideas and fun plots strewn around it.  There's the twist to the AI computer has a nervous breakdown plot, there's the evil empire, there's the noir-ish assassin, there are the subjugated people assimilated into the AI's human network, and finally there's the part that everyone's already reviewed the heck out of:  the language without gender.  It has all the makings of a terrific novel, but to me, it just fell flat.
There is so much to this novel that it's hard to give a synopsis.  I've already listed most of the plot lines, but I'll try to wrap it together in a few sentences.  Breq is an AI, inhabiting a single body.  She used to be a ship with hundreds of human bodies acting as tentacles, or ancillaries, all part of her collective (yes, a little like the Borg from STNG).  She is on a mission to assassinate the Lord of the Radche.  The Lord of the Radche has ancillaries too, but some have been infiltrated by an alien race.  On her way, she encounters and helps a former captain who has OD'ed on a frozen planet.  Together, they try to find the LOTR (heh) and destroy her before she destroys the empire.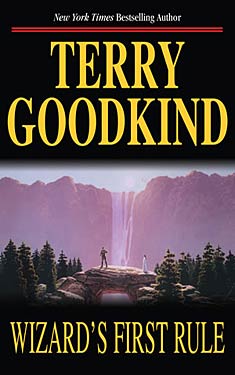 A while back, I had myself a Legend of the Seeker marathon. The show was tastefully cheesy, fantasy fun and I enjoyed it enough to finally read its source material. Consequently, this will be as much a review of The Wizard's First Rule, as it is a comparison to Legend of the Seeker.
Both book and show begin in much the same way, with a beautiful woman escaping the clutches of nasty soldiers. Woodsman Richard Cipher witnesses this and comes to her rescue, only to learn that she really isn't a mere damsel in distress. Though he doesn't know her true nature, when she touches one of her attackers and he turns on his companions, Richard realizes that Kahlan Amnell is no ordinary woman. From there, Richard takes her to see his old friend Zed, whom Richard believes can help Kahlan find the wizard she seeks. Low and behold, Zed has been that wizard all along, and as identities and destinies are partially unraveled, Richard accepts the Sword of Truth and becomes the Seeker, destined to join Kahlan and Zed to stop the evil Darken Rahl from taking over the world.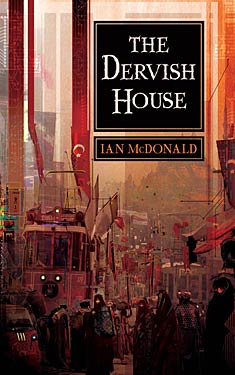 We choose our friends, not our family… but what of our neighbors? Those non-blood non-friends with whom we share geography and often nothing more, who force awkward small talk at the mailbox, whose kids' bike tires streak the driveway, who happen to be there when the ambulance arrives. We hold them in an arms-length intimacy– 'I hate cleaning after your messy pine tree, but I might need you if I sprain my ankle on my jog.' (But how many ugly pickups do you really need?)
The Dervish House is a story about neighbors: a small, diverse Istanbul community, which populates an aging, neglected plaza that once housed an order of dervishes. Its inhabitants are as varied and complex as the city itself, where a cataclysm of worlds, cultures, and ideas collide and spill over the Bosphorus strait. At Adem Dede, the dervish house, rival tea houses stare each other down, old Greek immigrants gossip and argue, an art dealer prowls for religious artifacts, a pothead hides from his family, and a precocious nine-year-old with a heart condition explores the world through his bitbots (the coolest toy ever!).
This is the best trailer yet but it does seem to give the whole movie away. I feel like I've seen it already.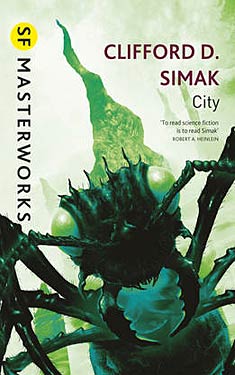 Clifford Simak's City won the 1953 International Fantasy Award, which was awarded to a science fiction or fantasy book. This book is more the latter, despite its later inclusion in later collections such as the SF Masterworks, Easton Press Masterpieces of Science Fiction, and the Locus Best SF Novels of All-Time.
Yes, this book is science fiction, and contains references to space and dimensional travel. Despite one of the stories being set on Jupiter, these are only references. This book focuses more on human development over a very long scale. It was originally published as a series of short stories in Astounding Science Fiction magazine. These stories are collected with interspersed brief commentaries from scholars of a future dog civilization.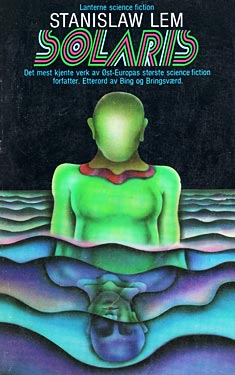 Packed into his landing module and jettisoned from an interstellar spacecraft, Kris Kelvin heads towards Solaris. Solaris is a watery planet that has been under Earth's observation for over a century. The consensus opinion holds that the ocean covering its surface is a single intelligent life form, but any detail of its nature or of the possibility of human communication with it has remained open to question. Over the past decade or so, interest in the planet has cooled among all but the most dedicated or obsessed Solarisists. The observation post on the planet was designed to house dozens of scientists. Kelvin will add a fourth to the three that are currently on board.
Kelvin lands on a strangely desolate facility. Even the robots are inactive. His one friend among the scientists on board has committed suicide. The others he believes are possibly insane. And they are not alone. A caricature of an African tribal woman stalks the hallways and the living scientists appear to hide living beings in their quarters. I associate Stanislaw Lem with the brainy comedy of his short fiction, but the opening chapters of Solaris are as unnerving as any horror novel I have ever read.