It seems like it's been awhile since we last had a book giveaway so we thought now would be a good time to do another.  But not just a regular book giveaway.  How about five copies of the first three books of Elspeth Cooper's Wild Hunt Quartet?  That's right, all three books!
The folks at Tor are excited to be bringing out the third volume in the the Wild Hunt series, The Raven's Shadow (on sale tomorrow!) and to celebrate they've asked us to help them give out five hardcover copies and, since it is the third book in the series, they decided to throw in the first 2 paperback books, Songs of the Earth and Trinity Rising, as well so you can get the whole story thus far!
In case you've forgotten how to play this game, all you have to do is re-tweet this tweet:
RT to win the first 3 volumes of Elspeth Cooper's Wild Hunt Quartet from WWEnd! http://t.co/opCi1ID6L8 pic.twitter.com/440OiE68Cr

— Worlds Without End (@WWEnd) March 10, 2014
…or comment here in the blog to enter the contest. Do both and double your chances! It's about as easy as we can make it. We'll have a random drawing from our re-tweeter pool and announce the winners next Monday so tweet away and don't forget to tell your friends.
---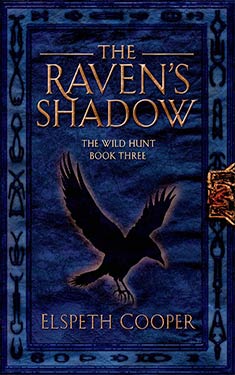 The Raven's Shadow
by Elspeth Cooper
The Raven's Shadow, the third book of Elspeth Cooper's The Wild Hunt series finds war brewing on both sides of the Veil between the worlds.
The desert of Gimrael is aflame with violence, and in the far north an ancient hatred is about to spill over into the renewal of a war that, a thousand years ago, forged an empire. This time, it may shatter one.
Wrestling with his failing grip on the power of the Song, and still trying to come to terms with the horrifying events he witnessed in El Maqqam, Gair returns to the mainland with only one thing on his mind: vengeance. It may cost him his life, but when everything that he had to live for is being stripped away from him, that may be a fair price to pay.
Old friends and old foes converge in a battle of wills to stem the tide of the Nimrothi clans as they charge south to reclaim the lands lost in the Founding Wars. If they succeed, the rest of the empire may be their next target. And with the Wild Hunt at their head, the overstretched Imperial Army may not be enough to stop them.
---
What people are saying:
"If you are not already familiar with her work, then I implore you to read one of her books, you will not be disappointed." — Fantasy Book Review
"This isn't a book that you can easily put down once you begin" — SF Book Reviews (of Songs of the Earth)
"The absorbing narrative and sheer quality of the production will keep readers impatiently awaiting the next installment" — Kirkus Reviews
"In scope, this series has the potential to rival George R. R. Martin's A Song of Ice and Fire and should enjoy a wide readership of young adult  as well as adult fans of epic fantasy" — Library Journal (starred review)
If you are not familiar with Elspeth Cooper you can read full chapter excerpts of all three books right here on WWEnd to get a taste.  Ms. Cooper is also a perfect fit for several of our Roll-Your-Own Reading Challenges like the 2014 Women of Genre Fiction and, because this is a three book giveaway, The Number of the Counting Shall be Three.
Our thanks to Tor for the excellent prizes and best of luck to everyone. Help us spread the word and be sure to come back next Monday to see if you've won!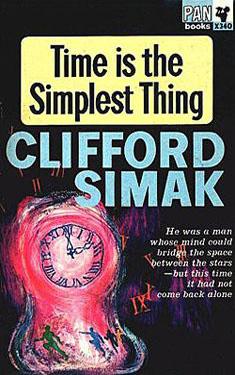 Clifford Simak has an important message for all wannabe McFly's and TimeLords: Don't bother. Life moves with time. It doesn't hang around to be observed by time travelers. The past is deserted of life, and the future is a void.
More importantly, Mr. Simak also has a message for NASA: Stop what you're doing. Humans are too frail for space. If we want to explore space, we must do so with our minds (cue wobbly theremin music).
That's the basic premise for Simak's 1962 Hugo-nominated novel Time is the Simplest Thing (a.k.a. The Fisherman). Shepherd Blaine, telepathic space explorer for Fishhook enterprises, embarks on a mental journey to a planet 5,000 light-years from Earth and encounters the Pinkness (not a sexual metaphor!), an equally telepathic creature. The creature automatically shares its mind with Blaine, without so much as a hello, (well, it shouts "Hey, Pal!"– because every planet shares a lexicon of wholesome epithets), and Blaine, fused with his new alien mind, returns to Earth and flees Fishhook's greedy desire to collect alien life in any form.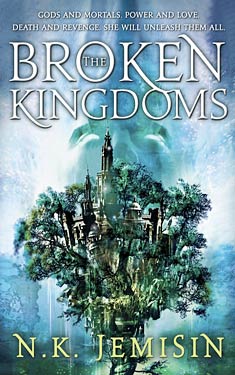 The Broken Kingdoms by N. K. Jemisin
Published: Orbit, 2010
Series: Book 2 of The Inheritance Trilogy
This is the second book of a trilogy, so the book description and review contains some spoilers of The Hundred Thousand Kingdoms.
The Book:
"After the events of The Hundred Thousand Kingdoms, much has changed in the world. The city of Sky is now called Shadow, since it lies in the shade of the World Tree, and godlings—children of the Three Gods—live among the humans. Many people are attracted to the magic of Shadow, and Oree Shoth is no exception.
Oree is a blind painter that is able to see only magic, so living near the godlings in Shadow gives her the opportunity to sometimes see. She spends her days selling trinkets to pilgrims, navigating her relationship with the godling Madding, and handling the silent, homeless man that she has taken in out of kindness. She names the man "Shiny", due to the way he glows in her magic sight at dawn.
When someone begins killing the godlings of Shadow, Oree's life will never be the same. She and her quiet guest are drawn into a dangerous conspiracy that involves the Arameri, the gods, and those for whom the murder of godlings is only the beginning." ~Allie
Never Let Me Go by Kazuo Ishiguro, Published: Faber and Faber (2005), Awards Nominated: Arthur C. Clarke Award
Never Let Me Go, directed by Mark Romanek (2010)
This review is going to be a little different from my usual pattern, since I'm simultaneously reviewing the novel Never Let Me Go, by Kazuo Ishiguro, and the movie adaptation Never Let Me Go, by director Mark Romanek.  The focus will be on comparisons between the two representations of the story, so I will have to discuss the content of the story in some detail.  This means, there will be some spoilers of Never Let Me Go, both book and movie version, in this review.
So, I was in the mood for starting a new multi-book fantasy and sci-fi saga and after reading a little about the New Sun series and a little about the author I was intrigued to give The Shadow of the Torturer a read and was hoping that this was going to be the start of a relationship with a well respected author who I had not previously read before. This was also part of a challenge to read twelve Damon Knight Grand Masters I had not read before in 2014.
To put my review in context I would like to say I really wanted to like this and also that I probably did enjoy the book more than the review suggests as there was quite a bit in the book that niggled me.
The book is set in Urth that is our Earth in the far-future. The Sun is dying and Urth is essentially a medieval society with some future tech (lasers, space travel etc.) The author states that the book is a translation from a 'future language' and it is the language of the book which was the most rewarding thing for me. Wolfe uses language and words from all over Europe, America, Africa. He uses words from the 16th, 17th and 18th Century as well as formal language from more recent times. I can imagine this grating on some people but I found much enjoyment in looking up words – it's a book that benefits from the 'future tech' of built in dictionaries of e-readers. Quite often Wolfe makes words up. In 1980 I suspect many readers would be quite lost with this book due to the difficulty for most readers not having such an enormous vocabulary. I totally understand a reader's opinion that Wolfe thinks he is smarter than his audience.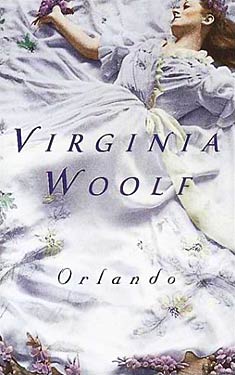 Hogarth Press, 1928
Intended Audience: Adult
Sexual content: Mild
Ace/Genderqueer characters: Yes
Rating: PG
Writing style: 3/5
Likable characters: 4/5
Plot/Concepts: 4/5
Orlando was a nobleman by birth, although all he really wanted was to be a poet. Throughout his years as a man he experiences love, lust, and loss, until one day he wakes up in a female body and must go about his/her life just the same. She quickly learns the ridiculous restrictions of behavior based on sex, but her goal remains… to transcend so much of life while still finding an anchor to hold on to.
Written as a fictitious biography, Orlando was apparently a love letter of sorts to Virginia Woolf's lover and friend, Vita. As such it has a logic (or lack thereof) all its own, verging on farce and fantasy. Most aspects of Orlando's life are ordinary for the time she lives in—the most noticeably unusual thing is that the body she inhabits transcends both sex and age, allowing her to experience three centuries despite only calling herself thirty-something years of age. This can be taken as psychological symbolism or literal (and completely unexplained) magic. The important thing is that I found Orlando's experience with gender and life's deepest questions to be relatable even when made difficult through flowery run-on prose.
Michael Straczynski (World War Z, Thor, Babylon 5) has acquired the rights to Harlan Ellison's now classic short story, "Repent, Harlequin!" Said the Ticktockman (originally published in a 1965 issue of Galaxy Science Fiction, and more recently in this Kindle compendium of classic science fiction). Meredith Woerner, at io9, summarizes the plot:
The beautiful and complex story, "'Repent Harlequin!' Said the Ticktockman" is set in a dystopian future where time is a highly regulated. Being late is a serious crime. If you abuse your time the Ticktockman will find you, "turn you off," and you die. The short story itself starts in the middle and leaps from the beginning and end throughout the plot. It's really a wonderful bit of work that has been widely praised as an astounding work of science fiction. And now, Straczynski has acquired the rights to this story from Ellison.
Because Ellison has been famously reticent to work with Hollywood, after all of his run ins with the industry, the optioning of this script comes as quite a surprise.  Deadline's Mike Fleming unravels the mystery:
How did Straczynski do it? He had to deliver a finished screenplay to Ellison, whose credits range from The Outer Limits and Star Trek to being acknowledged in many sci-fi works including James Cameron's The Terminator, and serving as a Babylon 5 consultant. Only then did Ellison grant the option.
Given the fantastical nature of the short story, it's unsurprising that Peter Jackson and Guillermo Del Toro are being courted for the director's chair.  Tor's Ryan Britt is not amused:
Now, JMS certainly knows what he's doing (I mean, he's written tons of screenplays for successful films) but I do wonder about the lack of tension in this story translating to the big screen. To me, a story like "Repent," has what I think of a 1984 problem. The concept is amazing and transformative, but the stuff that actually happens in the story is less memorable than the premise. To put it another way: I think of this (and many of Ellison's stories) as brief little jaunts into worlds, and once the point has been made, the story ends. This is the strength of short fiction, and also the reason why movie-length versions of Twilight Zone-esque plot-twisters can get a little trying. (Repent, Shyamalan!)
I have to say, how this story makes it to the silver screen is beyond me, as well.  If Jackson gets the nod, will he stretch this short story out the way he did The Hobbit?  Will Mr. Ellison allow that?
Oh, and whatever you do with this story, Mr. Straczynski, don't call it science fiction!
1st Place


Ancillary Justice by Ann Leckie
Alix Heintzman (alixheintzman)
2nd Place


Frankenstein by Mary Shelley
Rae McCausland (ParallelWorlds)
3rd Place


The Gods Themselves by Isaac Asimov
Val (valashain)
The January Roll-Your-Own Review Poll is closed and we have our three winners!  Congrats to Alix, Rae and Val and thanks to everyone for all the great reviews! Our winners will find an Amazon.com gift card waiting for them in their email inbox for $25, $15 and $10 respectively.
Now that we're caught up with the RYO we'll be having another poll very shortly for February. You still have a few days to get your reviews in so don't put it off. We could be sending you a gift card next month!
As you can see by the stats thus far the RYO is off to a roaring start! Well done everyone. Let's keep it going and see how far we can take it.
| | |
| --- | --- |
| Challenges: | 27 |
| Participants: | 422 |
| Books Read: | 311 |
| Books Reviewed: | 159 |
Glenn Hough (gallyangel) is a nonpracticing futurist, an anime and manga otaku, and is almost obsessive about finishing several of the lists tracked on WWEnd. In this series on Fantasy Manga Glenn will provide an overview of the medium and the place of fantasy within it.
---
The manga which has the record for longest continuously running manga in the USA is, (drum role please)…A romantic comedy!
Oh My Goddess! premiered in the USA in August of 1994 and 46 takubon later is still going. It's been going on even longer than Blade of the Immortal. Blade has ended it's run in Japan. The saga of Keiichi and Belldandy has not, so we will see a 20th year mark for USA publication next year.
We've all heard of star crossed lovers before, but this is ridiculous.
Dark Horse has this to say about the first Volume:
Alone in his dorm on a Saturday night, Nekomi Tech's Keiichi Morisato dials a wrong number that will change his life forever – reaching the Goddess Technical Help Line. Granted one wish by the charming young goddess Belldandy – a wish for anything in the world – Keiichi wishes she would stay with him always! Complications are bound to ensue from this; the immediate first being the new couple getting tossed out of the dorm – it's males only! As the hapless student and his mysterious "foreign beauty" ride around looking for a new place to stay – risking the different dangers of seeking shelter with an otaku convinced Belldandy is an imaginary woman, and a Zen priest convinced she's a sinister witch – Keiichi's still got his classes on Monday morning! How is his new "exchange student" companion going to be received on the N.I.T. campus? A little too well for normal life to ever return…
The Science Fiction and Fantasy Writers of America have announces the 2013 Nebula Awards nominees! The noms in the Best Novel category are:
The winners will be announced during the 49th Annual Nebula Awards Weekend will be held May 15-18th, 2014, in San Jose at the San Jose Marriott. The Awards Ceremony will be hosted by Toastmaster Ellen Klages.  Check out the official press release for full details and the complete list of noms in all categories.
This ballot's got a lot of variety and continues a recent trend in the Nebulas having a female majority of noms:  6 of 8 for 2013, 4 of 6 2012, 4 of 6 2011 and 5 of 6 for 2010.  Interesting.  Ancillary Justice has the most award nominations out of these book (3 so far) so I guess that makes it the front runner.  What are your predictions?  Do you have a favorite?