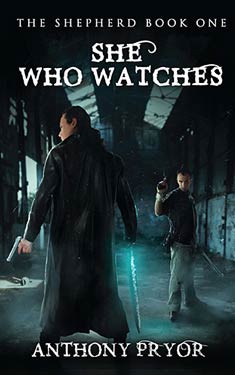 Some books are just a fail with me.  In general, I hesitate to give a book a low review just because I did not enjoy it, I mean 80% of a review is in the reader's perspective.  We have all reread a book we once loved and on a second read couldn't help but wonder what kind of crack we were smoking to have enjoyed the book so much the first time, and visa-versa.  But in the case of She Who Watches, by Anthony Pryor I really do not feel much guilt for this review.
The characters were one dimensional.  The female characters were particularly offensive to me.  There were only two female leads, the first Trish, is apparently the group pump.  Her main and only characteristic is sleeping with all the members of the group, well most of them anyways.  She is possessed by the demon before she gets through all of them.  Her one main scene in the book is the obligatory sex scene with the main character.  I'm not sure why the author felt he needed to cut and paste a scene from Fifty Shades of Grey into his book, but he did.  Trish boils down to little more than a trampoline for the main character.
The other female lead Kay, was mousy and weak.  When she steps up to fight the demon, the main character is surprised, even though in the previous two paragraphs the author goes into details about how one of the male main characters, and even the dog have become more powerful and more committed to destroying the demon after having an experience of seeing a goddess.  My only thought while reading this description was, why would he be shocked that she was moved, he wasn't surprised when the rest of the group was moved and motivated by meeting a goddess!
The rest of the characters were equally one dimensional.  I felt no vested interest in their wellbeing and by the end of the book was counting how many pages I had left before I could read something else.
But because of who I am, I am going to leave this review on a positive note.  At least the author didn't kill the dog.
I would like to thank Permuted Press, for providing this book for an honest review.