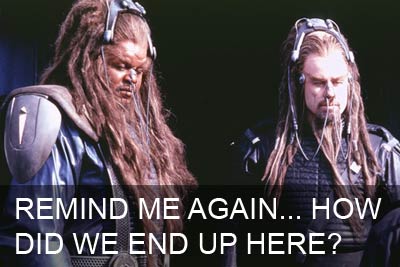 Should artists apologize for their work?
(No, I'm not gearing up to make amends for the poor quality of my blogs. Get over yourself.)
In considering artistic apologies, let's review the recent hullabaloo regarding Battlefield Earth.
Within the last several weeks, it was reported that the screenwriter of Battlefield Earth (who shall remain nameless out of consideration for his well being), upon being notified that the film was chosen the worst of the decade by the Razzie Awards, issued an apology for its suckiness. I haven't seen the film, but I'm going to go out on a limb and assume it's pretty bad.
Noseplugs. Codpieces. Vinnie Barbarino. Scientology. Yeah, all that together is likely what I would classify as pretty bad.
Now, I question the screenwriter's sincerity. First, he's a writer, so he's automatically suspect. But then, rather than take full ownership for his sins, he stepped over the line and pointed the finger at a second party.
In this case, the second party was the Scientologists. "They changed the entire tone. I knew these notes would kill the movie."
Now, I'm not in the business of taking up for the Scientologists, but haven't they been picked on enough? It's not bad enough they almost got Tom Cruise kicked out of Germany. Or that a heavy rotation of enemas factor into their regimen. They have to take responsibility for producing Battlefield Earth, too?
C'mon, screenwriter guy. Own it. Well, in fairness, he did.
"Now, looking back at the movie with fresh eyes, I can't help but be strangely proud of it. Because out of all the sucky movies, mine is the suckiest."
Anyway, all this "worst movie of the decade" talk got to me thinking that we could use this opportunity somehow to raise money for a worthy cause. But how? Then it hit me.
For charity, I will sit through a complete viewing of Battlefield Earth and write about it.
I think I'm up for the challenge. After all, I suffered through both Pandorum and Cloverfield within the last week, which I figure is like going to training camp for slogging through a viewing of Battlefield Earth. How much worse can it be? (I'm afraid to find out.)
Regrettably, my local library (where I get all my free movies) didn't have a copy of Battlefield Earth, so I had to go out and buy one (I really need to get on NetFlix).
Here's the deal:
Worlds Without End has created a tribute fund through St. Jude Children's Research Hospital. Your part is to go to the website and make a donation to the tribute fund. Big or small, they will take it all and put it to good use.
For my part, I will sit through Battlefield Earth at the end of May (tentatively May 27) and share the love in a future edition of Thies' Pieces. Be my charity sponsor, and I promise I will sit through the entire film, no matter how painful it gets.
---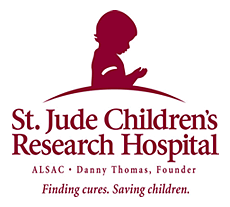 From St. Jude's website:
St. Jude Hospital has become a world renowned research facility in the area of pediatric cancers such as leukemia. Children from all across the U.S. as well as 60 foreign countries have been admitted to St. Jude without regard for the family's ability to pay.
St. Jude relies on the generosity of people like you to continue vital research and patient care programs, which are saving many young lives. Because of this support, St. Jude has seen the survival rate for Acute Lymphoblastic Leukemia (ALL), the most common form of leukemia, increase from 4% in 1962 to 94% today.
---
Help us out and let's raise a nice sum for St. Jude and the families they assist.