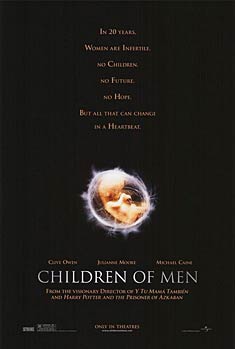 I had the happy occasion to watch a sad movie recently.
The sad movie was Alfonso Cuarón's Children of Men, and to my mind it demonstrates the best that science fiction can be.
It's a deeply felt movie, intense and raw, the way that Saving Private Ryan is deeply felt, intense and raw. I say it's a sad movie, because of the world it portrays (and how close that world looks like ours), but ultimately the film's message is one of hope.
If you're not aware of Children of Men, the narrative is simple yet beautiful. It is the year 2027, and humanity has lost the ability to procreate. Mankind is slowly dying out. Into this cauldron of despondency, a miracle occurs – a pregnant woman (presumably the only such in the world) is discovered, and Theo Faron (played by Clive Owen) must shuttle her to safe refuge, with the hope being that scientists can learn from her how to jumpstart the human race.
There are many things to admire about this film. The realism and believability of the situation. The reliance on the genuine humanity of the characters to tell the story, rather than special effects and wild concepts. The subdued messaging backgrounded throughout the film which doesn't draw attention to itself but adds necessary grit and political color.
I'm more than halfway through P. D. James' book of the same name right now (the source material for the film), and it is remarkably different. The book is pastoral, academic, an epistle of despair in a decidedly English tone; the film on the other hand is ripe with street-level danger, violence, anger.
I could go on and on about the many things I love about Children of Men, enough to write a paper, but for the purpose of today I'm just going to touch ever so briefly on the character of Theo Faron.
Jonathan McDonald recently posted a link on Worlds Without End to an article by Robert R. Chase regarding the relationship between science and religion in science fiction. I found the synchronicity of this posting to be fortuitous, as Children of Men is at its heart a very religious movie. And Theo Faron, despite his jaded, secular posturing, is a decidedly religious figure.
In fact, I would go so far as to say he's a saint. Let me explain.
In considering Theo's transformation from cynical loner to true and loyal guide, you can't but help see him as a post-modern St. Joseph. Protector of the mother and her child, he leads her to safety despite many obstacles, giving of himself totally to his mission. Theo's story is a beautiful psalm of self-donation.
To my mind, it is unmistakable that Cuarón and his fellow screenwriters drew inspiration for Theo Faron from the life of St. Joseph.
This led me to consider just how freely science fiction films can dip into the lives of saints for inspiration. What follows is a brief exploration of ten saints and the film characters who echo them.
10 Lives of Saints Appropriated for Science Fiction
I can't do Children of Men justice with a paltry blog, but I can say that as long as our filmmakers continue to bring us deeply felt stories such as this, I have no doubt that science fiction film has a bright future.
DON'T FORGET – BATTLEFIELD EARTH CHARITY CHALLENGE!
Worlds Without End created a tribute fund through St. Jude Children's Research Hospital –
Help us reach our charity goal. Make a donation, be my charity sponsor, and I promise I will sit through an entire viewing of
Battlefield Earth
, no matter how painful it gets.