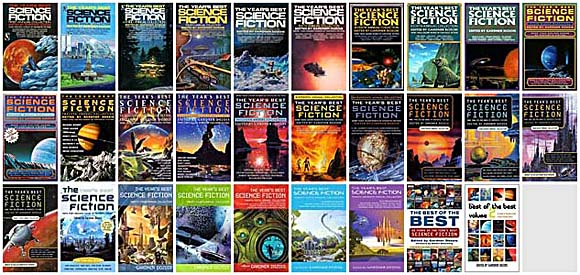 We've just added the complete The Year's Best Science Fiction series to our database! In case you're not familiar, this is considered by many to be THE anthology series for serious readers of science fiction short stories. The annual collection is edited by Gardner Dozois, multi Hugo Award winning editor and author, and each volume includes dozens of stories from a veritable who's who of Science Fiction's best and brightest.
The list of authors to appear in TYBSF includes Stephen Baxter, James P. Blaylock, Gwyneth Jones, Jonathan Lethem, Robert Reed, Walter Jon Williams, Gene Wolfe, Nancy Kress, Dan Simmons, Paul J. McAuley, Alastair Reynolds, Greg Egan, Ken MacLeod, Bruce McAllister and Charles Stross just to name a few. Dozois includes veterans and rising stars in each yearly edition as well as an insightful summation of the year's events and a lengthy list of honorable mentions.
Anthologies are a bit of a departure for WWEnd. Our main focus is on award nominated novels but there is always room for a few anthologies. So what do you think? Do you want to see more? Have you read any of these? Any collectors out there got 'em all?