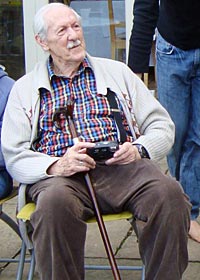 Tim Aldiss, son of famed SF Grandmaster Brian Aldiss, wrote to WWEnd today asking if we would help spread the word about a project he and his siblings are working on to celebrate Brian Aldiss' 85th birthday. Here's what Tim had to say about the project and how you can get involved.
---
Despite having recently missed out on the Lost Man Booker Prize award, Brian Aldiss has something else to celebrate this year – he turns 85.
I am his second son Tim and I have been invited to contribute to the great Worlds Without End blog to say a little about my father and to tell you of a project that my siblings and I have set up in honour of his birthday this August.
Despite his mature years dad still has all his faculties. He lives independently in Old Headington, Oxford, and still puts pen to paper and outputs his unique brand of creative writing. In fact it has been hard to persuade him to take his foot of the gas and relax more in his mature years. Nevertheless our family and that wide circle of friends and acquaintances that he still keeps contact with are party to a very special view on the world, and a unique vision that is still crystal clear.
Growing up with such an amazing visionary was a great excitement. My formulative years coincided with Dad's 8 year creation of the Helliconia trilogy. There were relief maps, and models, globes, and planet registration forms, and the whole family came along for the odd imaginary ride on a fagor! But it was our many trips to Science Fiction conventions that particularly captured my imagination as a boy growing up.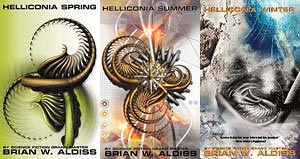 I now reside in Brighton, on the south coast of the UK, and it was the 37th World Science Fiction Convention that brought me to Brighton for the first time. I remember my stay in the then Metropole Hotel on the seafront well. I met so many of the greats – Arthur C Clarke, JG Ballard et al. I've still got Christopher Reeve's signature! I saw Hawkind play live! (actually that was the 45th Worldcon some years later at the Brighton Centre). They were heady days staying in the guest of honour suite, and being too young to fully appreciate the amazing fancy dress parades that happened back then!
There are so many amazing memories to share and re-live, and this presented a dilemma when the family recently got together at Easter and discussed Dad's pending 85th birthday celebrations. What we decided is that we wanted to try and do something that hadn't been done before. Brian's late wife, my mother Margaret, organised a publication for him on his seventy fifth entitled A is For Brian, and there is no way we were going to be able to compete with her amazing venture. So we decided to try and reach out to new readers of his work – those who have recently discovered him – and ask them how they find his visionary writing, and whether they would like to contribute comments.
We have set up a Facebook page to facilitate this. All comments left will be collated and projected at a gallery where we are showing a collection of Brian's artworks in Oxford for the week of his birthday in August. Take a look, and if you have anything you'd like to share (whether you are a new reader, or an old one) please do feel free to contribute and spread the word.
Happy Birthday Grand Master
Tim Aldiss
http://www.facebook.com/group.php?gid=120586967951630&ref=ts
---
Thanks, Tim, for letting us in on the party and thank you Brian for so many great stories.
So, if you've ever read Brian Aldiss take a minute to check out the site Tim has set up and share your experience with the Aldiss family. Help us spread the word by passing this along to your friends.