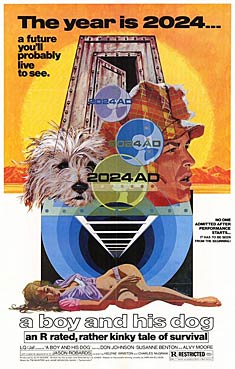 I've been feeling a little down lately.
I attribute it to all this talk these days about the Mayan calendar and the Apocalypse. You know, end of the world, mass extinction, nuclear war. It's a bit of a downer. I figured I would get some lighthearted video to lift my spirits.
Like something with a dog in it. Dogs always make me feel better.
So I'm at the library, vacillating between Turner & Hooch and Air Bud, when I see this film jacket with a young Don Johnson (that's right – Nash Bridges himself) looking like some kind of train conductor. And he's got a lovable, scruffy haired pooch.
The title said it all. A Boy and His Dog.
I say to myself, "For the love of Benji, that's it! I'll see this A Boy and His Dog movie. I like trains. I like dogs. This will make me feel better. It will make me forget about the whole end of the world Apocalypse thing."
Then I get it home. Pop it in. And low and behold…
It's about the freakin' Apocalypse. Who knew? And no trains, either.
If you haven't seen A Boy and His Dog, the premise is pretty simple. There's a boy. He has a dog. They communicate telepathically and spend their days hunting for food and female companionship. Oh yeah, the world has been destroyed by nuclear war, and food and women are in exceedingly short supply.
The first half of the film follows The Don as he and his dog Blood lead a hard-scrabble existence among the burnouts and hippies of the wasteland. Kind of like a Burning Man event, except with fewer deaths, arrests and Land Management citations.
The Don's job is to keep Blood fed. Supposedly Blood can no longer find food on his own, as some kind of tradeoff for telepathic powers. And Blood, in return, is charged with finding young women for The Don's social calendar. Every time a young female is near, Blood's mental sonar pings like he was straight out of Das Boot.
The Don and Blood are at a stag show in the middle of Nowheresville (this was a decade before Tina Turner built her Thunderdome and civilized the place), when Blood's pinger starts pinging. That's exciting news for The Don, who realizes he has an opportunity to make a new friend.

A new friend is right. She's a beautiful young woman who, unknown to The Don, is actually bait planted by the weird people who live underground (I'll get to that in a moment).
Well, some of the local burnout fellas also take a hankerin' to the young lady, so The Don has to fight them off with his best Sergio Leone gunbattle. Of course he wins, because he's The Don, and after some tender moments, the young lady makes her escape.
Well, of course The Don has to go after her. In this case, it means he has to follow her underground.
Blood, wounded during the gunbattle with the local fellas, protests The Don's decision and stays topside.
This sets us up for a major transition. The film's vibe at this point goes from "Grateful Dead" to "Dead Kennedys".
The Don finds himself smack in the midst of a society of mimes and rodeo clowns. Led by the inestimable Jason Robards, everyone wears white face paint and rosy cheeks, and cottons to strange ideas about health care and polygamy.
They also have a lot of picnics, heavily featuring corn on the cob, which I found particularly fascinating.
Nothing says "Apocalypse" like corn on the cob. Except maybe canned tuna. And zombies. (But there's no tuna or zombies in this movie, so corn it is.)
Jason Robards and his two cronies run the show in the underground city (one of the cronies is none other than the great Alvy Moore, who you may remember as "Hank Kimball" in Green Acres. Brilliant casting!).
To enforce their will on the populace, Robards and company employ a Nebraska linebacker named Michael who can crush a man's skull. With his bare hands. Yowsers.
Now you may ask, with the mime makeup and corn on the cob, what makes these underground Midwesterners so hostile? Well, everyone has to wear overalls, for one thing. But also, they're unable to reproduce. They must trap topsiders, such as The Don, and lure them underground to repopulate.
It's not the glamour job you think it is. Trust me.
Think animal husbandry.
When you see it, you'll know.
Obviously, this is not a good situation for The Don. He must escape. Being The Don, it's time for more pistol work. This leads to the ending, which in my book is one of the most shocking and controversial of all time.
I won't spoil it for you, other than to say it doesn't involve corn on the cob.
If there is one lesson about the Apocalypse that I took away from A Boy and His Dog, it's this:  Pack lunch.
---
ONLY TWO WEEKS LEFT! – BATTLEFIELD EARTH CHARITY CHALLENGE!
Worlds Without End created a tribute fund through St. Jude Children's Research Hospital –
Help us reach our charity goal. Make a donation, be my charity sponsor, and I promise I will sit through an entire viewing of
Battlefield Earth
, no matter how painful it gets.