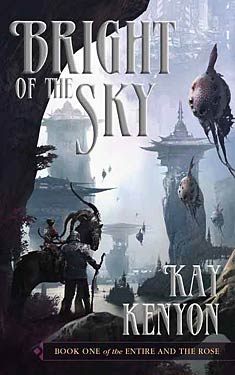 Over on the Pyr-o-mania blog Lou Anders has posted that Pyr is offering a FREE Kindle edition of Bright of the Sky, book 1 of Kay Kenyon's The Entire and the Rose series.
---
Kay Kenyon's brilliant sci-fantasy epic quartet, The Entire and the Rose, is now available in its entirety in hardcover, trade paperback, and Kindle-format ebook. And to celebrate, the first book in the series, Bright of the Sky
, is now FREE on Kindle
.
"[Bright of the Sky] knocked my socks off with its brilliant evocation of a quest through a parallel universe that has a strange river running through it. Unique in conception, like Larry Niven's Ringworld, this is the beginning to what should be an amazing SF-Fantasy series." – Locus Online, Best of 2007
"Bright Of The Sky effortlessly blends science fiction concepts and world-building with fantasy story telling to create a unique and intriguing whole….Kay Kenyon has created a standout novel….I'm looking forward to the rest of series. 4 out of 5 stars." -SFSignal.com
---
There does not appear to be a time limit on this but I suggest you get it now just in case. Thanks Pyr.