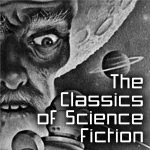 We've just added a new book list to WWEnd: The Classics of Science Fiction.
The Classics of Science Fiction list, compiled by James Wallace Harris and Anthony Bernardo, is an attempt to create a definitive list of the best Science Fiction books. Harris and Bernardo collected 28 different recommended and "best of" lists by noted fans, critics and writers and then cross-tabulated the lists to see which books showed up with the most frequency. The result is a ranked list of 193 books, each having seven or more citations.
This is a really extensive list with most of the usual suspects represented along with a few surprises. Check out the list and use our BookTrackr to see how many you've already read.
Also, be sure to visit http://classics.jameswallaceharris.com for more information including an extensive essay on the methodology used to create the list.