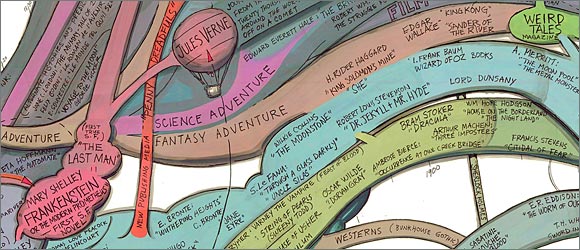 Take a look at this amazing info graphic by artist Ward Shelley over at Places & Spaces. Shelley has mapped out the history of Science Fiction in a fascinating amorphous tentacular blob that takes you through the development of the genre from Gilgamesh to New Space Opera with hundreds of famous and sometimes unexpected stops in between.
The paths twist and turn and branch out through the long years in a hypnotic pattern of movements and cultural change. The many genres of fiction that derive from the same roots of "Fear and Wonder" disappear into their own universes leaving us to wonder what those places might look like.
There is so much detail here you could pore over it for hours and still find great new things. The example books on this chart alone would make a titanic reading list! Take a look and tell us what you think.
Thanks to Wintermute for the tip.