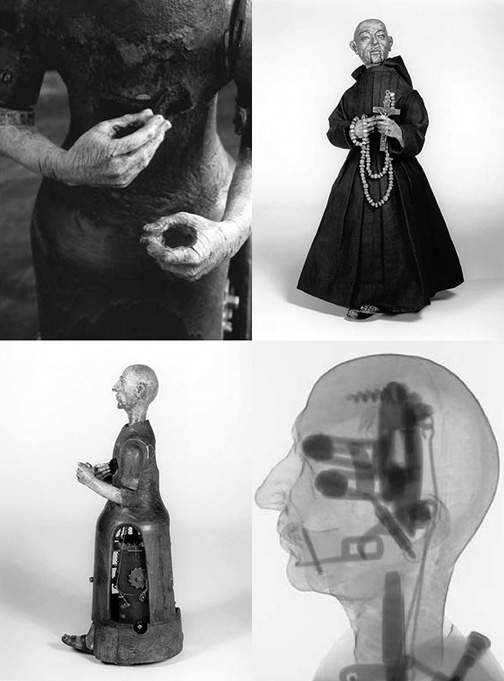 Remember learning in school about how the Middle Ages were a time without intelligence, technology or a sense of humor? Consider the curious case of Juanelo Turriano's (AD 1500-1585) mechanical monk, described here by Elizabeth King:
Slowly the monk comes to life. He turns his head to single out one among the company. Left foot stepping forth from under the cassock hem, then right foot, the monk advances in the direction of his gaze, raising the crucifix and rosary before him as he walks. His eyes move: turning his head, he looks to the raised cross and back to his subject. His mouth opens, then closes, affording a glimpse of teeth and interior. He bends his right arm and with the gathered fingers of his hand he strikes his breast. The small blow is audible. And now he is lowering and turning his head as he walks: the elbow and shoulder in synchronized motion he brings the cross higher, up to his lips, and kisses it. Thirty seconds into the act, he's taken eight steps, beat his chest three times, kissed the cross, and traveled a distance of twenty inches. At what seems like the last moment—for doubtless the subject of his attention has backed away from the table's edge—he looks away, arms still aloft, executes a turn to his right, and makes a new appointment. He will make seven such turns and advances in his campaign if the mainspring has been fully wound. The uninterrupted repetition corresponds exactly to a trance-like performance of prayer, incantation.
Found at The Lion and the Cardinal.