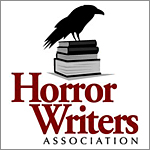 As part of our relentless efforts to add every celebrated genre novel to our site, we have finally begun adding novels explicitly in the Horror genre to WWEnd. While many books in our database have arguably been more Horror than Science Fiction or Fantasy, our excuse was that they could still be labelled as Dark Fantasy or that they had some elements of Science Fiction. October, appropriately enough, is going to see an expansion of WWEnd into the Horror genre, and while we haven't quite yet added enough books to fill the historical records of any Horror awards, we decided to go ahead and gather together a genre reading list, and the Horror Writers Association's Horror Reading List fit the bill perfectly. Here's how they describe the list:
The Horror Writers Association (HWA) was formed, in part, to foster a greater appreciation of dark fiction among members of the general public. Whether you are new to Horror, or simply want to become familiar with some of the classics and 'bests' of dark fiction, the following books are a wonderful place to begin.
Also be on the lookout for an upcoming series of blog posts starting this week from Rico and I about some of our favorite scary books.