When you think of WWI fantasy, especially in the young adult genre, you might think of steampunk sci-fi, like Scott Westerfeld's Leviathan series. I, on the other hand, think of The Hobbit. Tolkien wrote this classic in 1937, well after the Great War, but much of it came from his experience in the trenches. The book begins with Bilbo puttering around Bag End in the idyllic setting of the Shire, not unlike Tolkien's own neighborhood in north Oxford. He is then, quite literally drafted by Gandalf to join a platoon of dwarves and sent to the front of a war to witness the Desolation of Smaug. It's a story similar to Tolkien's own experience in the Great War, where he was struck with trench fever in 1916. It was while recovering from the disease that he began writing The Book of Lost Tales, which would establish the history and continuity of Middle-Earth.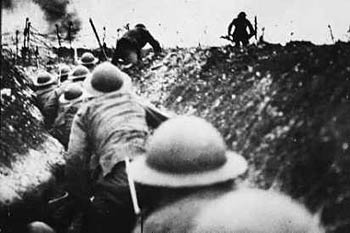 At first glance, trench warfare might not seem like a suitable inspiration for a children's book. Perhaps that is why it took so long for The Hobbit to be written. Although set in Middle-Earth, Bilbo's story wasn't penned until the 1930s, when, upon spying a blank sheet of paper Tolkien impishly wrote "In a hole in the ground, there lived a hobbit." It might have been terror and illness that inspired Middle-Earth for the author, but the first published account of that world would be more childlike and innocent.
In this sense, one might say that the story of Tolkien's world is backwards. The Book of Lost Tales was the first thing Tolkien put to paper, but it wouldn't be published until 1992, long after the author's death. We, the reader, would begin not in desolation, but in delight. That's how it started for me, of course. The Hobbit was one of the first YA books I ever read (after The Chronicles of Narnia by C.S. Lewis, and Ursula K. Le Guin's Earthsea Trilogy). It was a great transition for me, because it was really the only YA book set in Middle-Earth. Of course, I read the entire Lord of the Rings series as a teenager, but it was really intended for adults. By the time I graduated to The Silmarillion, I was out of my element. At 14, I barely understood the mature themes and deep mythological references.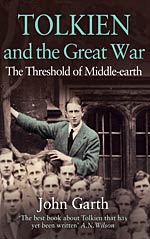 The Hobbit, then, is not just a children's or a YA book. It's an introduction to wider world that continues to expand in depth and complexity as its reader matures. It is, as the best of fantasy ought to be, the first in a series of books that taps into human tradition and reminds us of what we once believed…and might believe again. What does all of that have to do with a fruitless war that is universally regarded as a dark chapter in human history? Like many works of the Lost Generation, it is a reaction to the event — one that recognizes the inevitability of conflict and human misery. Unlike many of those works, however, there is more hope than mourning. Bilbo returns from his war changed, possibly less innocent, but not truly lost.
There is a reason an entire genre was inspired (perhaps overly so) by this new kind of young adult fantasy, and, as great as our current crop of writers are, I'm not entirely convinced that they have topped this classic.