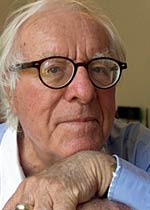 Sad news today. Author Ray Bradbury died last night at the age of 91. Ray Bradbury is among the most celebrated, and perhaps even under-celebrated, science fiction authors. On the one hand, his masterpiece, Fahrenheit 451, appears on eight different "best of" lists, and the epic The Martian Chronicles is on seven. On the other hand, his novels never won a major science fiction award. His books have been alternately banned and required high school reading. Like many geniuses, many of his works have appreciated in value over time. Mr. Bradbury will write no more, but we are left with a body of work that I believe has only begun to show its relevance. Since I lack the eloquence to bid a proper farewell to such a great writer, I'll let another great writer, Robert Louis Stephenson, do it for me:
Virgil of prose! far distant is the day
When at the mention of your heartfelt name
Shall shake the head, and men, oblivious, say:
'We know him not, this master, nor his fame.'
Not for so swift forgetfulness you wrought,
Day upon day, with rapt fastidious pen,
Turning, like precious stones, with anxious thought,
This word and that again and yet again,
Seeking to match its meaning with the world;
Nor to the morning stars gave ears attent,
That you, indeed, might ever dare to be
With other praise than immortality
Unworthily content.
Thank you, Mr. Bradbury. You will be missed.