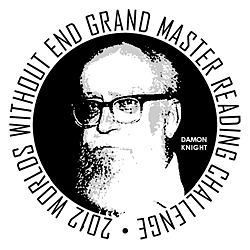 The August GMRC Review Poll is now closed and the winner is Allie McCarn (Allie) for her review of Man Plus by Frederik Pohl. Allie won the April contest for To Your Scattered Bodies Go by Philip José Farmer.
The August review poll was a close one with 3 members sitting on 10 votes: Allie, Emil and CharlesDee. This was the first time we had a tie at the end of voting so we needed a tie breaker. Enter jynnantonnyx. I told him of the problem and he said "Hey, I forgot to vote." and voilà, we had our tie breaker.
Allie will receive a T-shirt, a GMRC button and a set of commemorative WWEnd Hugo Award bookmarks as well as her choice of book from the WWEnd bookshelf. All runners-up will be getting a button and a set of bookmarks for their efforts.
The GMRC just keeps on truckin'!  We've got 166 participants who have logged 603 books read and submitted 184 reviews.  Many thanks to all involved!