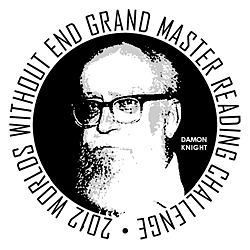 The October GMRC Review Poll is now closed and our winner is Glenn Hough (galleyangel) for his review of Joe Haldeman's The Accidental Time Machine. Congrats to Glenn! In case you missed it, Glenn recently launched a new blog series for us called SF Manga 101 that you should check out. We'll post number two in the next few days.
For his efforts, Glenn will receive a GMRC T-shirt, a button and a set of commemorative WWEnd Hugo Award bookmarks as well as his choice of book from the WWEnd bookshelf. All runners-up will be getting a button and a set of bookmarks.
So far our 170 participants have logged 662 books read and have posted 205 reviews which is a big jump from last month. It looks like folks are really trying to catch-up. I managed to get a few books read last month myself. Thanks to everyone for your participation and best of luck completing your challenge!  The end is near!