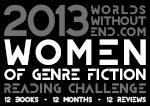 Lee S. (shewolfreads) started her love affair with books when her mother gave her a copy of Little Women. She swiftly moved on to romance (Sweet Valley High), mystery (Nancy Drew), and thrillers (Choose Your Own Adventure). It wasn't until she was 13 and got her hands on Interview with a Vampire that her passion for all things Gothic and dark started. While she's always ready for a good werewolf or vampire story, she's now branching out to fantasy and science fiction. You can join in on her reading adventures through her blog, She-Wolf Reads.
---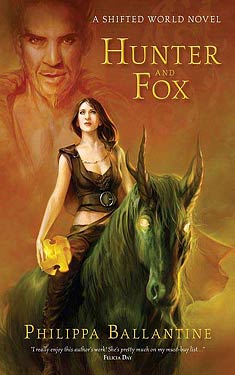 Full disclosure:  I don't read a lot of traditional fantasy.  Sure, I've read The Lord of the Rings trilogy and the George RR Martin series, A Song of Ice and Fire, but that's about it.  Everything else I read is more along the lines of urban fantasy, paranormal romance, steampunk, with a sprinkling of sci-fi and horror thrown in for good measure.  Philippa Ballantine has been on my radar for a while now with her steampunk series the Ministry of Peculiar Occurrences and Book of the Order.  Both have been on my TBR list but it wasn't until the release of Hunter and Fox that I decided to take the plunge into some of her more traditional fantasy work.  I had a bit of an unexpected reaction this book.  I enjoyed it but not for the reasons I expected.
I'm a world-building whore and admit that I can get carried away by a wonderfully created world at the expense of character and story.  Reading something that's more traditional fantasy, my expectations were that I would be very focused on the world and its rules above all else.  With Hunter and Fox, that just wasn't the case.  The characters are really what kept me in this game and what will bring me back to it.  I'll get to the world in a second but first let's talk about the tortured Talyn the Dark and the besotted Finnbar the Fox.
Talyn is Vaerli, a member of a once powerful race, now working as a killer and bounty hunter for the dictator of the land, the architect of her people's demise, the enemy, so to speak, of her kind – the Caisah.  She is alone, feared, and hated.  Ballantine does a wonderful job of capturing Talyn as this formidable and feared woman, alone in her immortality, world weary and just, well, tired.  She's working towards an end that she thinks will save her people, whether they understand that or not, without ever once thinking about whether she's made the right choices.  Her path will eventually cross with Finnbar the Fox, a bard, a skilled storyteller.  Where Talyn is dark, Finn is light.  He has hope.  Through banned stories that tell the almost forgotten history of the land, Finnbar wants to provoke change and destabilize the Caisah, Talyn's boss.  Ballantine masterfully teases out a shared experience between Talyn and Finn, something that is hinted at but is not quite clear.  Finn is besotted with Talyn and sees in her what nobody else can.  The road leading up to their meeting is suspenseful in a quiet way, and their interactions are fantastically tense because of what's hanging in the air; the end is unexpected.  Finn and Talyn are such compelling characters that I couldn't look away from this book.  I wanted to keep reading just one more chapter to see what would happen between the two of them.  And Ballantine paces their individual stories perfectly.
But Hunter and Fox is a book of shifting POVs and Talyn and Finn, while they are main characters, they aren't the only ones with integral roles to play.  Also important to the story is Byre, Talyn's brother, who is bent on saving their people but decides to take a different path to salvation than his sister; Varlesh, Equo, and Si – good friends of Finn's who also have secrets of their own; the blood witch Pelanor; and the Caisah himself.  These shifting POVs were well-done, well-paced, and not confusing.  Each one added a bit more and pushed the overall story along its path.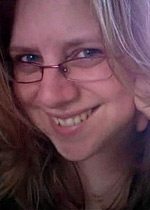 Where I felt the book had some issues was in the world-building, or more accurately, its pacing.  Let me explain.  The world itself is incredible.  Imagine a world of shifting landscapes – one minute a mountain range, five seconds later, a little rumble, and we have a desert landscape.  This is a world of various races, under the thumb of a dictatorial leader, living in fear.  Central to this world are the Vaerli, a people who were at one with the land, a people who invited the other races to join them only to eventually be at the bottom.  But now they are one of the oppressed.  Honestly, it's all too complicated to explain.  Suffice it to say that change is coming, different forces are at work to bring the Caisah down, and Finn and Talyn are at the center of this.  For me, it was a bit difficult to get into – the different races, their connections to each other, places, events, complicated history and mythologies…  There were moments where I was confused and had to go back to remember a name or a place.  Ballantine slowly reveals this information; she drops you in and expects you to keep up.  As a result, it took a bit to get into but the reward was worth it.  Once I got a handle on the back story, I was sucked into the politics, the players, the drama and adventure of it all.  It was worth the work.
Reading Hunter and Fox was a bit out of my comfort zone.  As I said, I tend to be a werewolf/vampire kind of girl, but Ballantine has made me a believer.  What was great with Hunter and Fox is that creating an incredible world wasn't done at the expense of great characters and plot.  I was completely sucked into Talyn's loneliness, Finn's hope, Pelanor's ambition, Byre's bravery, and the Caisah's mystery.  I'm definitely looking forward to reading the next book in this unique series.