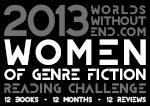 Alexandra P. (everythinginstatic) was first introduced to sci-fi by her father, at the age of 14. Although it took 3 years and 2 attempts to finish Foundation, she hasn't stopped reading sci-fi since, branching out into fantasy and speculative fiction as well. Her biggest passions are reading, tea and photography, and she hopes that 2013 will be the year she finally revisits Hari Seldon. You can read more of her reviews on her blog Wanderlust.
---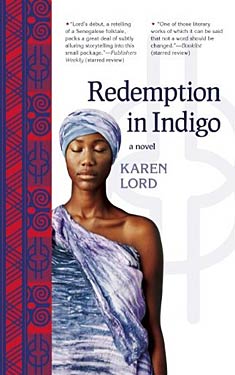 Oh, I do love modern fables. There's always something refreshing about different takes on the same stories that, to me, form part of the collective unconscious. Karen Lord takes a tale of redemption that, to some extent, we are all familiar with, and turns it into an enchanting story about resilience and the power of the human spirit. I found it, by turns, funny, sad, and absolutely exhilarating. For a first novel, it's certainly a very strong effort and there are only minor quibbles with the overall thing that keep it from a full five star rating for me.
Redemption in Indigo is the story of Paama, the wife of the gluttonous, foolish Ansige, who one day leaves him and returns to her village of Makhenda. Her husband tracks her down and attempts to try and convince her to return, only to blunder his way into trouble, leaving Paama to deal with the consequences (mostly shame). This leads to her acquiring the Chaos Stick from the djombi, or undying ones, and the quest of one such spirit to retrieve all this power for his own gain. What follows is a wonderfully spun web of redemption, understanding and love through the mythical savannah.
There are two main aspects I adored about this book: Paama herself and the way Lord weaves in Senegalese folk tales and myths into the narration. Paama feels like the most rounded, complete character in the novel. She undergoes a transformation (as does the djombi), but she maintains the core of what makes her, well, her. Throughout the novel, there are hints of her spirit and determination, all of which is firmly put on display in the climax. I laughed along with her, I felt for her during her struggles, and I wondered, as she does, whether choices are really as simple as we make them out to be.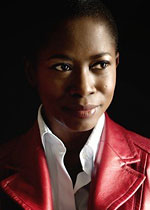 The second aspect, of mythology and folk tales, was reminiscent of Gaiman's work, particularly Anansi Boys and American Gods. While I found the latter insufferable and meandering, the former was decent, and the glimpses of Anansi, the Trickster spider god, were absolutely amazing. So it came as a great joy to see him cast in Lord's novel, in a semi-prominent role. There are references to the Fates as well, in the form of the Sisters, and again, Lord's effortless writing really makes them shine, and more importantly, makes them completely hers in creation and depth.
Ultimately, what really sort of kills it for me is the epilogue, weirdly enough. Throughout the novel, the reader feels as if they are listening to a traveling poet spin the tale of Paama and the Chaos Stick. At points the fourth wall is broken, but it is done in such a smooth fashion, that it doesn't intrude too much on the rest of the story. The epilogue really disappoints me, not because of the saccharine happy ending (which is well established in the final chapter), but because I feel it adds next to nothing to the story. Overall, a superb novel, would have preferred a more ambiguous note at the end (particularly when it comes to the djombi).