The 2013 John W. Campbell Memorial Award finalists have been announced: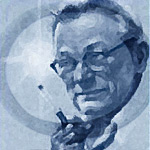 The award, for best SF novel, will be presented during the Campbell Conference, to be held July 13-16, 2013 at the Oread Hotel in Lawrence KS.
This makes the 6th award nomination for 2312.  One more and it would have tied only 5 other books for most nominations ever received.  That's quite an accomplishment for a science fiction book that doesn't cross genres.
What do you make of this list?  Any personal favorites in there?  There seems to be a wide variety of books though I am curious to see what people make of the fact that only 1 in 13 of the books was written by a female author.