A Problem of Theme and Legacy
With the Women of Genre Fiction Reading Challenge winding down the last few months we have been racking our brains trying to come up with a new challenge for 2014. We had lots of calls to repeat the WoGF from folks who want to do it again and from those who came to it too late in the year. It was a really great challenge so that option was very tempting, but in the end we wanted to do something new – something fresh. And of course we wanted to top the WoGF – a tall order.
For months we bandied about different themes based around the awards and lists we cover on the site or various author-based ideas, but nothing we thought of was as wide open as the WoGF. Every idea seemed to have more limited appeal or was already being done by the genre book bloggers we follow. We certainly didn't want to copy anyone else. We were stuck like Chuck.
Alcohol to the rescue!
Time was running out and we had no viable idea so we decided to get together and drink until we came up with a plan. It's a time-honored method that has worked for us in the past, so off we went to the pub. For a couple beers we just rehashed all the ideas from the previous months. For a couple more we got loose and started throwing out new ideas. Most of them were shite, but some were worth a laugh at least. A few beers later and the law of diminishing returns kicked in.  In our frustration we had soured on the topic, and in the middle of a lull, someone said screw the damn theme! Reading challenges are such a pain because not everyone wants to do the same bloody theme. Then why bother trying to come up with a theme at all? Let's just let our members create their own custom reading challenges to suit themselves and be done with it!
There was a moment of stunned silence while all our minds were blown, and suddenly we were all on the same track, talking a mile a minute. This could work! We don't have to funnel everyone into a single theme, and leave people out in the cold for 12 months if they don't like our choice. Love it. Well, what about people who just want a challenge to join and aren't interested in making their own? We'll give them a list of all the custom challenges that get created by other members, and if they find one they like, they can signup. So if you created a cool challenge I could join yours rather than make a new one? Sure, why not? The best challenges will get followers, and people will try to make interesting challenges so they can get more followers. And you can get your friends and your reading group to signup too.
Oh, that means that our book blogger friends, many of whom are already WWEnders, can signup on our site and use our tools to promote and manage their regular challenges. They'll go on the custom challenge list where they can recruit new followers from our membership. We'll promote their blogs from our site and they'll promote us from theirs – I like that! Our list will be a great tool for folks looking for a challenge to follow.
OK, so we have a big list of cool challenges to follow… but what if I like more than one? You can signup for as many as you want. We can do that?! Yeah, we can do that. We'll adjust the code from this year to allow multiple challenges. I like that 'cause lots of people thought 12 books for the WoGF was not much of a challenge, even with the reviews. Those guys can simply signup for 2 or 3 challenges and flagellate themselves as much as they want. Are we going to stick to the 12-12-12 format? No! Why make people adjust to us? We'll make the tools flexible so they can do what they want. If they want to do 10 books or 20 or 50 they can. They can even choose the length of the challenge and add review requirements if they want. Or stipulate rules like new-to-you authors!  People loved that twist on the WoGF.  The reviews were a big part of the WoGF's appeal. Yeah and we should get a wide variety of book reviews out of this which is better for the blog.
Well, what about the review contest? We'll do them just like last year. We'll have people reading for different challenges, but it doesn't matter what challenge the review is for. We'll still highlight the best reviews and award gift cards. How about the knuckle-heads? You know there will be some dill-hole who creates a challenge theme that other members will find offensive. Are we going to censor content? Some kind of review and release?  God, no! Too much additional coding and we'll never hear the end of that. Now, if it's blatantly offensive we'll shit-can it, it's our site after all, but for the rest we'll just let the community police itself.  Yeah, we can put a flag on the challenge page so members can let us know when something's fishy. If we get a bunch of flags we'll put it up for a vote. That'll work. Well, what about….
And Lo, the WWEnd Roll-Your-Own Reading Challenge is Born
The conversation went on and on and we hammered out the rules and feature set for another hour or two. The name came up early in the conversation as the result of a side remark about rolling characters for Dungeons & Dragons which obviously played a part in the challenge logo.  Lots of things changed and morphed as we got down to building the thing, but we're really pleased with the result and we hope you are too.
So, after all that, here are the basics in a nutshell.
Pick an Existing Challenge. Take a look at the RYO reading challenges on our list and find one that's right for you. Each challenge has it's own theme, rules, and requirements, and you can join as many as you like throughout the year.  Click the signup button and use our tools to find and tag books for your challenge and start reading!   If you are already part of a reading challenge on another site or with a reading group that's not on our list, please let the challenge host know about us.  We'd love to have them on our list!

Roll-Your-Own Challenge. If you can't find what you're looking for on our list you can Roll-Your-Own!  You pick the theme, set the length and the rules, and determine how many books and reviews you want.  Publish your challenge and join it like you would any other RYO challenge from our list.  You can roll as many as you like, and you can even mark your challenge as private if you want to use our BookTrackr™ tools to do your own thing.  Your RYO challenge will reside on it's own page on WWEnd that you can easily share with your friends, family, and followers.  Your page will include details about your challenge, a list of participants, stats, and a link to your blog.  You can even create your own custom challenge logo to go on your page.

Reviews and Monthly Review Polls. Not every challenge will have a review requirement, but any reviews submitted for a RYO challenge are eligible for selection for the WWEnd blog.  Reviews selected for the WWEnd blog are automatically entered into our monthly review poll to be voted on by all WWEnders.  The review poll prizes are $25, $15 and $10 Amazon gift cards!  Pretty schweet, huh?   If you write a review every month, you'll have 36 chances to win a prize throughout the year.  Where else are you gonna get odds like that?   Only 1 review per member per month will be considered for the WWEnd blog, no matter how many challenges you participate in, but there is no limit to the number of times you can win in the course of the year.

The Fine Print.  I hate to say this but you know how it is:  WWEnd reserves the right to reject any challenge themes that are in bad taste or offensive to others.  Let's all play nice.  I think this goes without saying but just in case:  You must be a WWEnd member to participate in the challenge.  Join now for free!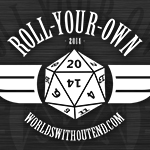 So there you have it – a new challenge for a new year that's a little bit different!  We hope to see all our participants from last year signing up again this year and getting creative with the RYO.  We'll be adding new features to the RYO like filtering and sorting etc. but we've got all the basics covered for now.  To kick things off we have created 2 RYO challenges that probably look familiar. The 2014 Women of Genre Fiction Reading Challenge is a reprise from last year with the same rules as before which should make a lot of folks happy.  (I'll be doing this one myself since I didn't manage to finish in 2013.)  We're also bringing back the Grand Master Reading Challenge for a second go.  (There are a couple more GM authors to pick from this year and we're including the Horror Grand Masters as well.)  Our challenge list will grow as more people grok to the RYO so if you don't see anything you like right away, just come back tomorrow to see what new ones have been added.  The possibilities are limitless, and I can't wait to see what our members come up with.
Are you ready for the Worlds Without End Roll-Your-Own Reading Challenge?  What ideas do you have for your own "roll-your-own" challenge?  Let us know in the comments below and help us spread the word on your blogs, on Facebook and Twitter and to anyone who'll listen.  More details can be found on the challenge page and in the forum.  Happy reading!