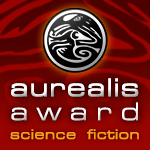 Ever wondered what kind of science fiction they write in Australia?  Well, wonder no more.  We've just added the Aurealis SF Award to WWEnd!  The best authors from the land down under are right here at your fingertips.
The Aurealis Awards were established in 1995 to recognize the achievements of Australian science fiction, fantasy and horror writers.  The SF award is in now and we're working on getting the Fantasy and Horror awards added too so stay tuned for that announcement.  In the meantime, throw another shrimp on the barbie, grab a Foster's and kick back with some awesome Australian sci-fi.
Thanks as always to our Uber Users for getting all the data together.