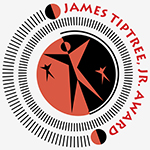 An award encouraging the exploration & expansion of gender.
After many delays we have finally managed to get the James Tiptree, Jr. Literary Award added to the WWEnd database!  The biggest hurdle was to update the site to accept short fiction — where before we only had full length books — because the Tiptree is a mix of novels and short fiction in the same award.  After that came a lot of data entry to get all the books, especially the new short fiction, and dozens of new authors into the site — a task taken up by our Uber User members so three cheers for them!
This is the last of the big genre awards for us to cover but certainly not the least.  If you're not familiar with the Tiptree Award here are the basics straight from the official site:
In February of 1991 at WisCon (the world's only feminist-oriented science fiction convention), award-winning SF author Pat Murphy announced the creation of the James Tiptree, Jr. Literary Award, an annual literary prize for science fiction or fantasy that expands or explores our understanding of gender. Pat created the award in collaboration with author Karen Joy Fowler. The aim of the award is not to look for work that falls into some narrow definition of political correctness, but rather to seek out work that is thought-provoking, imaginative, and perhaps even infuriating. The Tiptree Award is intended to reward those writers and other creative artists who are bold enough to contemplate shifts and changes in gender roles, a fundamental aspect of any society.
We're very excited to bring such a great and diverse award to Worlds Without End and we hope you'll take a look and find some great genre fiction to add to your reading pile!