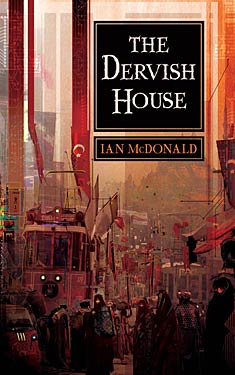 We choose our friends, not our family… but what of our neighbors? Those non-blood non-friends with whom we share geography and often nothing more, who force awkward small talk at the mailbox, whose kids' bike tires streak the driveway, who happen to be there when the ambulance arrives. We hold them in an arms-length intimacy– 'I hate cleaning after your messy pine tree, but I might need you if I sprain my ankle on my jog.' (But how many ugly pickups do you really need?)
The Dervish House is a story about neighbors: a small, diverse Istanbul community, which populates an aging, neglected plaza that once housed an order of dervishes. Its inhabitants are as varied and complex as the city itself, where a cataclysm of worlds, cultures, and ideas collide and spill over the Bosphorus strait. At Adem Dede, the dervish house, rival tea houses stare each other down, old Greek immigrants gossip and argue, an art dealer prowls for religious artifacts, a pothead hides from his family, and a precocious nine-year-old with a heart condition explores the world through his bitbots (the coolest toy ever!).
Megan AM (couchtomoon) first discovered she was a SF nerd when a group of nerd boys sat near her friends in the school cafeteria and she overheard them talking about her favorite books and movies. Her friends noticed, too. Nowadays, when she is not managing crises at work, or hanging out with her gorgeous husband, you can find her curled up on the couch reading SF novels. She posts her reviews of these novels on her blog From couch to moon.