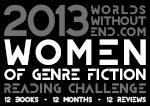 Steff S. (MMOGC), is an avid reader with an eclectic taste in books. While just about anything can catch her eye, she has a particular soft spot for fantasy and science fiction, and especially loves space operas and stories with interesting magic systems. Besides reading, she enjoys adventuring in the virtual words of MMORPGs, and first started blogging about games before branching out to contribute her book reviews at The BiblioSanctum with her friends.
---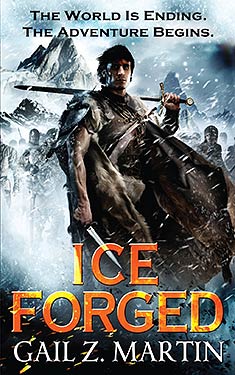 I've long been curious about Ice Forged. Though I also own The Summoner from her Chronicles of the Necromancer series, for some reason I just knew I wanted this one to be my first Gail Z. Martin book. They're both stories set in high fantasy worlds, but lands of ice and snow have always fascinated me, I don't know why. Maybe because I think these harsh settings are often fertile ground for exceptional protagonists, driven to be harder in an environment marked by extreme temperatures and scarcity. I love to read about characters becoming shaped by those experiences and overcoming those challenges.
So it was a pleasant surprise when the book began by throwing its main protagonist into a situation that was even more harrowing than I'd expected. Blaine McFadden is convicted of murder, and though his reasons for the killing were honorable, the young nobleman is sentenced to live out the rest of his days in a penal colony on Velant, an icy wasteland at the edge of the world. Six years later, Blaine (now known as "Mick") is a new man, emerging as a natural leader in the eyes of the other convicts and colonists. Still, they are kept under the thumb of an oppressive governor, and are at the mercy of the mages who are always too keen to administer their swift and often cruel discipline.