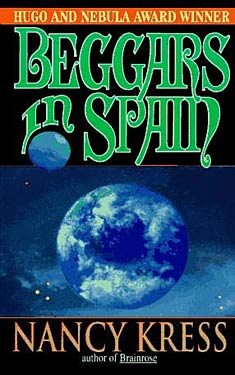 Beggars in Spain won a number of awards when it was first published, including the Hugo and Nebula Awards for Best Novella, so I was expecting quite a lot going in. I was not disappointed. In fact, I would go as far as to say that I devoured this book and was constantly delighted by the 'hard' Science Fiction on display.
The premise sounds very intriguing: an exploration of the strains placed upon American society by the development by a group that is unquestionably not "created equal". I mention the Declaration of Independence here, because it is a cornerstone for much of the political and sociological debate in the book. The concepts of freedom, responsibility, equality and community are explored in depth throughout the story and the characters repeatedly refer to the Declaration of Independence as well as the writings and speeches of Abraham Lincoln. I found this far more interesting than I would have imagined, because it sounds like it would be rather dry and dull. However, the author keeps such discourse to a minimum and presents the arguments in such a way that they hold the attention and provoke contemplation of the issues involved rather than causing the eyes to glaze over and the mind to skip over these sections. I feel educated by this book, and that is not something that I can say very frequently.
Sue Bricknell (SueCCCP) is an ex-pat Brit living in Maine. She has no real memory of learning to read and has always had a great love of fantasy. She blames this on her early introduction to the Tales of Beatrix Potter, which she had memorized by the age of four. From an early obsession with Fantasy she has expanded her interests into the Science Fiction, Mystery, Horror and Crime genres. Joining a local book group made her realize that she really likes talking about books, so she began her blog, Coffee, Cookies and Chili Peppers. She has recently had the good fortune to be hired as an assistant librarian, so now she can think about books even more!