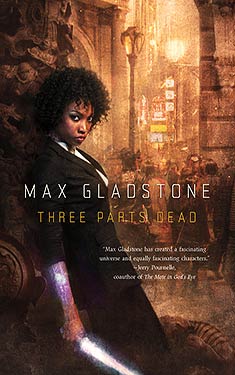 Three Parts Dead by Max Gladstone
Published: Tor, 2012
Series: Book 1 of The Craft Sequence
Max Gladstone (his website is here) published his first novel, Three Parts Dead, in October of last year, and his second novel Two Serpents Rise has just come out on October 29th!   Two Serpents Rise appears to be set in the same universe as Three Parts Dead, but this review will only cover Three Parts Dead, as I haven't had a chance to read it just yet. Three Parts Dead is impossible to sum up in a few quick sentences, both because there is so much going on in the novel and because there are so many fascinating characters!  The story was always brimming with energy, fresh ideas and cleverness.
In the world of Three Parts Dead, humans have learned to use godlike powers, resulting in a war against the Gods that almost destroyed everything.  Since then, Craftsmen and Craftswomen, who are trained in the Hidden Schools, draw power from earth and starlight to effect amazing feats of magic.  I was surprised by the mechanical and matter-of-fact tone of both Craft and deific power—they are described mostly in terms of law and economics.  For instance, a God's power is managed and increased sort of like a finance portfolio, with investments and returns.  Of course, if a God were to go 'bankrupt', it would have some more direct personal effects, like death.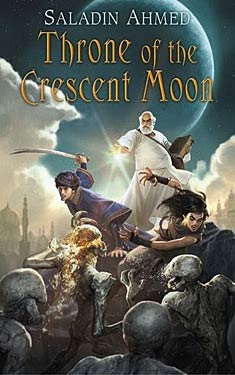 Throne of the Crescent Moon by Saladin Ahmed
Published : DAW Books, 2012
Awards Nominated: 2012 Nebula and 2013 Hugo awards
Awards Won: 2013 Locus Award for Best First Novel
Saladin Ahmed is a poet, as well as a writer of science fiction and fantasy, and he maintains a website.  While he has a quantity of public short fiction and poetry, Throne of the Crescent Moon is his first novel. Out of his short fiction, he was twice nominated for the John W. Campbell award for Best New Writer for "Hooves and the Hovel of Abdel Jameela", which was also nominated for a Nebula Award (and is available online).
Ahmed's first novel, Throne of the Crescent Moon, is a sword and sorcery tale set in an Arabic world, featuring a power struggle around the titular throne.  While magic is pretty common in the capital city of Dhamsawaat, the townsfolk are more concerned with the corrupt Khalif and rebellious Falcon Prince than any possible threat from ghuls or djenn.  As a result, professional ghul hunting has become a largely thankless task, though the elderly, messy, curmudgeonly hunter Adoulla Makhslood still risks life and limb to protect people from the occasional ghul.
I've been drawn to science fiction and fantasy since I learned to read. As I imagine is the case with most speculative fiction fans, at the core of my continuing fascination is the insatiable desire to read stories that are, in some way, unlike what I have read before. Sometimes I find very familiar stories told in new ways, such as Jo Walton's Tooth and Claw. Sometimes I find stories that are entirely unfamiliar to me, such as in Catherynne M. Valente's Deathless. Sometimes I'm amazed by the creative mind of the author, as in Miéville's Perdido Street Station, or by the extrapolation of current trends to bizarre future societies, as in Rajaniemi's The Quantum Thief. Speculative fiction is such a wide field and the stories to be told are limited only by the imagination and skill of their creators.
Of course, the only way to continue to enjoy these new kinds of stories is to constantly stretch one's horizons as a reader. WWEnd's convenient awards rankings, theme book lists, and now yearly challenges have helped me to continue to expand my experience of genre fiction. As a continuation of this, I am going to make a special effort to read and review the debut novels of relatively new authors in the field. The John W. Campbell Award for Best New Writer will guide my selections, but I will necessarily branch out to other new authors that catch my interest. Through this series, I hope to discover many new and upcoming authors, and to possibly bring them to the attention of others.