Those of you who are attending this year's Worldcon in Chicago probably already know about the opening night event at the Adler Planetarium.  If you don't, then maybe this news will be enough to entice you to come join us.  If you do attend, please come visit us at the fan tables section!  In the meantime, enjoy this little video I found about the attraction.  Although the Adler is stuffed with state-of-the-art shows and interactive exhibits, the main attraction to me is the history of the building itself.  It is the oldest planetarium in North America, and has an impressive collection of antique observational equipment.  Steampunk fans, rejoice!
From the Chicon 7 web site:
Chicago, Illinois, USA – Chicon 7, the 70th World Science Fiction Convention ("Worldcon"), will offer its members a spectacular opening night event at the Adler Planetarium.

On Thursday, August 30, Chicon 7 will be taking over the Adler Planetarium for an evening reception for convention members. This exclusive event will run from 6:30 to 10:30 p.m., during which time the museum will be closed to the general public.

During the reception, Chicon members can view the museum exhibits. In addition, the Grainger Sky Theater will be running the show "The Searcher" every 30 minutes. This show was written by Nick Sagan (son of astronomer Carl Sagan) and follows the story of a visitor from another galaxy as he searches for his lost civilization. It features stunning visualizations of the formation of our universe, the collision of galaxies, a spectacular supernova explosion, and a supermassive black hole. (Seating in the theater is limited, so there will be a $5 charge for admission to this performance.) Weather permitting, the museum will also host a sky-viewing session on its exterior deck, with telescopes and docents provided to members so they can see the wonders waiting in the night sky.

Museum campus parking will be available, and shuttle buses will run between the Adler Planetarium and the Hyatt Regency throughout the evening.

About the Adler Planetarium:

The Adler Planetarium was the first modern planetarium in the Western Hemisphere and first opened to the public on May 12, 1930. The museum houses extensive exhibits on space science including one of the world's most important antique astronomical instrument collections. The Adler is also a recognized leader in science education, with a focus on inspiring young minds to pursue careers in science. The museum sits on the extreme edge of Chicago's "museum campus" and is located on an artificial island.
Chicon 7, the 70th World Science Fiction Convention, Chicago, IL – August 30 to September 3, 2012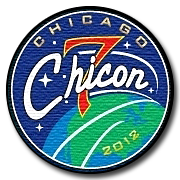 Chicago, Illinois, USA – Chicon 7, the 70th World Science Fiction Convention (Worldcon), is bringing seasonal joy to science fiction fans everywhere through "The 7 Days of Chicon." From December 20 to 26 inclusive, Chicon will be reducing its adult Attending membership rates by $15, with young adult Attending membership rates lowered by $10. Family rates will also be reduced. Full details of this special sale can be found on the convention's web site at www.chicon.org.
The first six days of the discount period will celebrate our five Guests of Honor and our Toastmaster. The seventh day, December 26, is our gift to the fans, in appreciation of everyone who has made Worldcon into a unique event since it was first held over 70 years ago.
Chicon 7 is comfortably on track to be the largest and most spectacular Worldcon since 2006, when the event was held in Los Angeles. Nearly 2500 people have already registered, and some 5000 are expected to attend the five-day event which will take place at the Hyatt Regency Hotel in downtown Chicago from August 30 – September 3, 2012.
According to Chicon 7 chair Dave McCarty, "Chicago has hosted the Worldcon more often than any other city, and we're delighted by the enthusiasm of fans who will be visiting us again next year. Over a thousand members have joined us in the last five months alone, and we expect many more to join in January when we open our hotel bookings and start accepting nominations for the 2012 Hugo awards. We have a great site, with the whole event happening under one roof. We hope many people will take advantage of this offer to sign up now and save money on their memberships."
Chicon 7 is the 2012 World Science Fiction Convention ("Worldcon"). The first Worldcon occurred in New York City in 1939 and Worldcons have been held annually since then except for 1942-45 when there was no event due to World War II. Chicon 7′s Guests of Honor are five-time Hugo winning author Mike Resnick, artist Rowena Morrill, art agent and collector Jane Frank, science fiction fan and former Worldcon chair Peggy Rae Sapienza, and astronaut Story Musgrave. Chicon 7′s Toastmaster is John Scalzi.
For more details about the convention or to purchase memberships, visit www.chicon.org.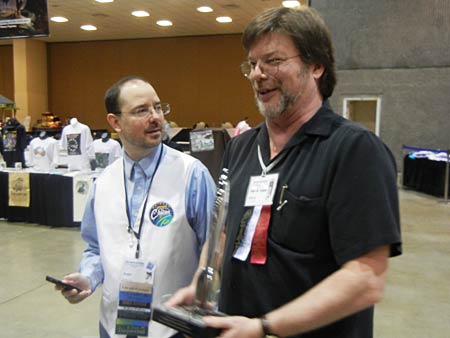 [After I got back from Worldcon I immediately got sick so I've been a bit too lazy to wrap this up until now. I'm not sure anybody still cares more than a week later but here ya go.]
Day 5 at Worldcon came much too early. Saturday at the convention was really fun but took a lot out of all of us. We attended the Hugo Award directly after and then went out to the parties etc. so we didn't get much sleep. Add to that we had to get up early and pack for the return trip. We were ready to take it easy for the few hours we had left at the table and decided we'd just put out some bookmarks and spend the day wandering the hall.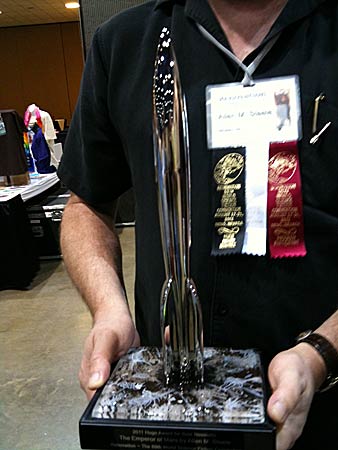 One of the first people we saw when we got to the convention center was Connie Willis. I wanted to get her signature on my Blackout/All Clear bookmark but she was having breakfast with some friends so I decided to wait for a better chance. I'm sure she would have been happy to talk to me – you could tell she was still riding high on her Hugo win – but I didn't want to disturb her whole table. There were plenty of people already hitting her up in any case.
Speaking of riding high, we next ran into Allen Steele with his Hugo. He was drawing a nice crowd of well-wishers – including one of my favorite authors John Scalzi – and he was just beaming with pleasure. Everyone wanted a picture and a closer look at the Hugo trophy which is freakin' awesome in person. He was quite willing to let folks hold the trophy, which is pretty darn nice if you ask me. He must have posed for dozens of pictures in the few minutes we were there.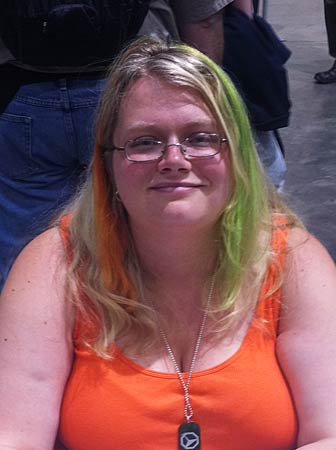 We all split up to take care of last minute stuff and Chris and I went off to get some stuff for our wives and kids. I had already gotten my girls an awesome comic book adaptation of The Wonderful Wizard of Oz but my wife had told me I better bring back some toys after being gone for so long. Fair enough. I eventually settled on some nice, but expensive, stuffed animal puppets while my wife just wanted a convention T-shirt. Easy peasy. With that done we decided to go see the art show which was very nice. I loved seeing the original art for so many of the book covers I've admired over the years.
After that, Rico and I hooked up in the autograph line for Seanan McGuire, a.k.a. Mira Grant, author of Feed. She was very pleasant and did not seem disappointed in not winning the Hugo though we met plenty of fans who really love her book who I'm sure were plenty aggrieved on her behalf. With her autograph in the bag all I had left to do was find Connie Willis before we had to leave for the airport.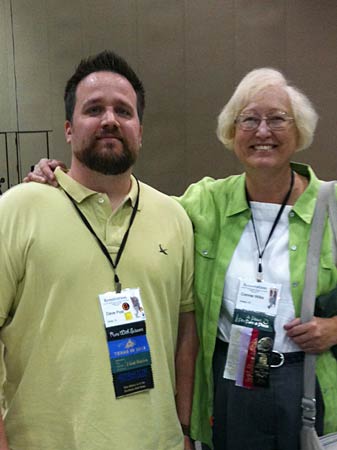 I found Chris chilling out back at the table and told him I needed to find Connie fast. He just grinned and said: "Turn around, Dude." And there she was walking past. I flagged her down, got a pic and my final autograph and congratulated her on her win. A very pleasant lady to be sure and a great final note on our trip to Reno!
All in all it was a marvelous trip. It was my first Worldcon and aside from the expense and some minor bungles on our part it went off very smoothly. We didn't really know what to expect but I think we did pretty good with the fan table. We got to show off the site to hundreds of people and even a few authors which was extremely cool. The response was very positive, to both the site and the bookmarks, with lots of people promising to help spread the word about WWEnd when they got home. We got to meet some of our favorite authors and many great people and spent the better part of a week talking nothing but science fiction and fantasy. Not bad at all. We'll take what we learned in Reno and do it better next year in Chicago! It's only 366 days away. Hope to see you all there!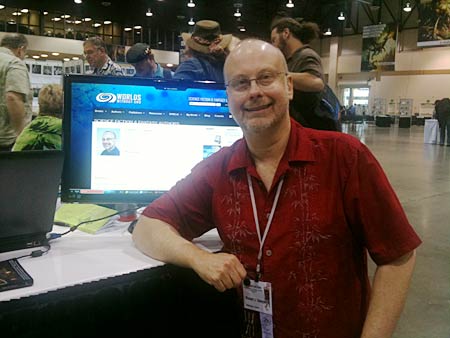 [Many thanks to Jonathan for posting my Worldcon reports last week, he did a great job. This post is a few days late because Sunday was the last day of the con and a travel day and Monday was back to work...]
Each day of the convention got better than the last and Saturday was no exception. We were expecting the biggest crowds of the week and we were not disappointed. There was a lot of traffic past the table and we talked our fool heads off all day.
Among the folks we got to meet were many of my favorite authors. Kay Kenyon, who I had the pleasure of interviewing for WWEnd some months back, stopped at our table and I got her autograph. I got to show her the site and it was neat pointing out the books of hers that I've read. She got a kick out of that I think. I was so excited to be showing off her author page that I forgot to get a pic! Later we got visits from Robert J. Sawyer, David Brin and the Grand Master himself, Robert Silverberg!
Robery J. Sawyer recognized me from the autograph I already told you about and he really liked the site when I showed him his author page and the Hugo listing. I asked for a picture and he said "Sure, how about I pose with my page?" That was cool. It's always a pleasure talking to Mr. Sawyer as he seems to really understand and appreciate his fans.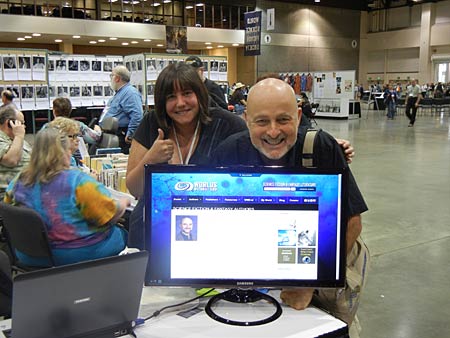 We had met David Brin at a party on Friday night and he was really great! I mentioned that my friend Tonya is a huge fan – Earth being her favorite book – and that she would be jealous we got to talk to him. He said he'd like to meet her and after we told him she was not with us he pulled out a business card and gave us a personalized autograph to take home to her. Classy. Liz had opted to go to the other hotel to do some gaming so missed out on seeing him too. When we spotted him coming down the tables the next day I thought she was going to pee herself! I pulled up his page and we lay in wait to ambush him. He looked over, saw his own picture looking back at him, and had to stop. He posed with his page too and had some nice things to say about the site. You might have guessed that the spazz behind him in the pic is Liz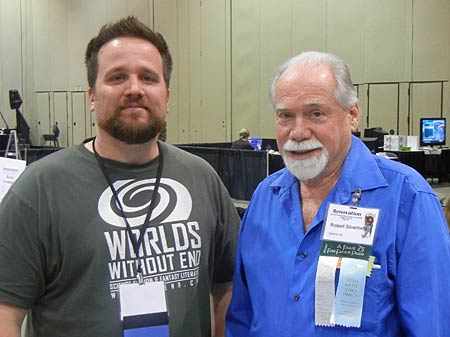 At one point I was looking through the program for author signing times and when I looked up there was Robert Silverberg sauntering past! Now it was my turn to squee like a little girl. I'm not proud of myself for that but he was one of the first authors I ever read and I dearly love his Majipoor series. Anyway, I called out that I was a huge fan and that I had him on my website. He stopped and asked "How does one manage to find oneself on your website?" I said, "We cover ALL of the best science fiction and fantasy." To which he replied, very matter-o-factly, "Why yes, of course," while stepping up for a closer look. Again I got to show off an author page to the author and he must have liked it because he posed for pics even though he clearly didn't want to. He's been doing this since before I was born so I guess he's well past mugging for the camera. If you missed his presentation of the best novella award you can catch it on USTREAM. Priceless.

I was really excited to be talking to all these authors and was content to man the table most of the day so I didn't see any of the programs. When I did get away from the table it was for autographs, shopping and food. One of my goals was to get all the autographs from the Hugo nominees on the bookmarks we made. I missed out on Lois McMaster Bujold the day before but I got a ticket to catch her at the SFWA table so I headed over there and got her sig then went and got in line for Ian McDonald. He had seen the bookmarks already but when he noticed my WWEnd shirt he commented on how much he liked them which was very cool. I never got to meet N. K. Jemisin but Rico did and got me her autograph so I now had 3 out of 5 with just a partial day left to get the other two.
The day was a real blur until around 5 when things really slowed down. Everyone was off getting ready for the Hugo Award ceremony. After the hall closed for the day we did the same. We were all eager to see the ceremony as you might imagine. We spend a lot of time covering the awards on WWEnd but this was the first time I've ever gotten to see them go down in person! The ceremony was fun though it went on a bit too long, as all such ceremonies do, and the seats were not the most comfortable. By the end I was ready to go.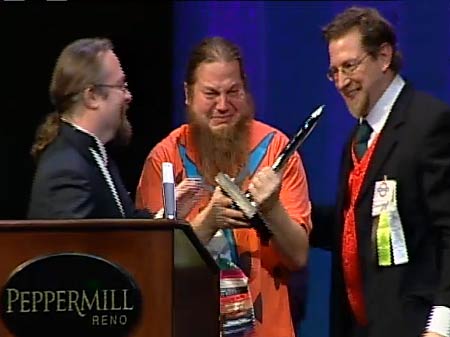 The MC's for the evening were Jay Lake and Ken Scholes and they did a fair job of it but they seemed to be trying too hard to be part of the show. They were funny in parts but like a SNL skit that goes on too long I just wanted it to end already. Some of the recipients of the awards were really entertaining especially Fanzine winner Christopher J. Garcia who was just completely overcome with emotion and Allen M. Steele who won for Novelette. He was clearly and genuinely caught off guard with the win.
After the Hugo ceremony we hit a few of the parties then went out and got some breakfast at the casino café. We were all pretty tired by then so we called it a night around one in the morning. A pretty damn fine day for the Worlds Without End team.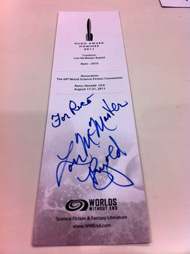 [And now for Day 3 of Dave's travel journal. -Jonathan]
Day 3 of the con and things just keep getting better. We set up shop the same as before and talked up the site to passers-by. Again the crowds were bigger than the day before which bodes well for Saturday. By now we're really getting the hang of things and we've learned how to draw folks in. Of course it could be the free bookmarks — people love free stuff. It has helped that the table next to us is giving out free books and videos etc. too. A very popular table as you can imagine and very convenient for us. I got my hands on a sweet paperback boxed set of Harlan Ellison's Dangerous Visions and a cool, but slightly cheesy, Spock collectors plate. Huzzah!
Speaking of our neighbors, the table on our other side has been promoting a mystery since Wednesday. "Come to our party and all will be revealed!" After hearing their spiel for days we were definitely going to attend to see what it was all about.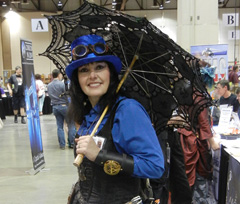 They also promised food and alcohol so it was a no-brainer. It turns out that they are launching a new convention called Convolution 2012: The Next Step (www.con-volution.com) to be held in San Francisco. The focus of the con will be professional development programming for aspiring writers and artists etc. who are looking to take "the next step" in their careers. Be sure to check out their site for details.
We talked to a lot of folks about the site and made a quite a few new fans in the process. We had the Banned SF/F Books list up on the big screen and it was a great conversation starter. It seemed like there were more costumes in evidence today, no doubt because of the costume ball tonight. One lady that stopped at our table looked like she jumped off the cover of a Parasol Protectorate novel. We had a great conversation about women authors and the SF Mistressworks list really piqued her interest.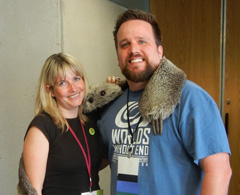 We took turns again manning the table and running around trying to see everything. Rico, Chris and I insisted on getting away to see Lauren Beukes reading from her novel Zoo City. The reading was a more intimate affair than the giant room used for George R. R. Martin with around 30 people in attendance. The passage she chose to read happens to be the exact spot that I'm at in her book so I was thrilled. Her personality and style really made the reading come alive and you could tell the crowd was eating it up. Lauren did a great interview for us that you should check out and we stayed after to say hello and get her autograph. When we mentioned WWEnd she remembered the interview fondly and commented on what a lovely fellow Emil is. I got to have a picture with her and she threw her sloth scarf over my shoulder for good measure when I told her the pic was going to make Emil jealous! She's a gracious lady and an excellent writer you should not miss.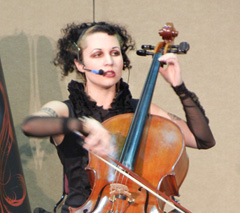 There was so much to see today that it just went by in a blur. Boris Valejo and family did a live demonstration of their art which was really fascinating. I kept going over to see the pictures take shape and they had quite a large crowd of admirers doing the same. There was a concert in the main hall by Unwoman that Rico described as "Tori Amos on cello" that was quite good. Rico managed to get away to see Cory Doctorow and panel discuss social media. There were some great sound bites from Doctorow including this gem: "Facebook is the high-fructose corn syrup of social media."
There were a ton of authors doing signings including one of my favorites Robert J. Sawyer! By the time I got to the table there was no line for Sawyer so I walked right up to him stunned I didn't have to wait. He was in good humor and since he had time he drew and excellent starship Enterprise on the back of my program and signed it. After he drew it, he showed it off to his neighbor at the table, Allen Steele, who was suitably impressed. I gushed a bit about his books and the talk he gave in Dallas some months back then moved over one step to Mr. Steele's line.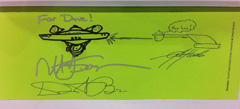 When I got to the front I said "You know, Robert J. Sawyer drew me a picture…" He took my program and drew a Klingon bird of prey attacking Sawyer's Enterprise and signed it. We all had a great laugh and I went away determined to read a Steele book right away.
I'll have to tell you about the parties and some of the great people we met in another post – we're late for the convention now. Until tomorrow!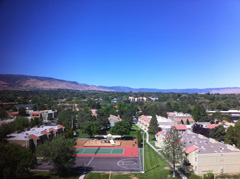 [We continue with Day 2 of Dave's travel journal. -Jonathan]
Rosy-fingered Dawn greeted us on our second day at Worldcon as we arose earlier than intended but eager to get the day started. As tacky as this hotel is, it's really quite comfortable and we all managed a good night's sleep – even Rico in the bathroom. Chris and I headed out to the convention center lugging the 5 boxes of bookmarks with us to get things set up while Rico ran some errands.
With no registration line to worry about this time we got things in order straight away and settled in to pimp WWEnd. We could tell that more people had set up shop than on the first day and it looked like we'd have to make the rounds again to see what was new. The crowd was much bigger as well and we had a good deal of traffic past our table. While we got going Rico went out and bought a huge monitor for the table that he slaved to one of the laptops. What a difference that made.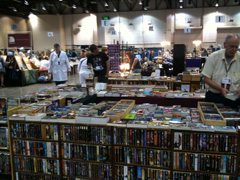 People were drawn to it like moths to a flame and it was much easier to demo the site there than on the much smaller laptop screens. You can see that thing from way down the aisle too. I think a lot of people did not want to get too near to see what we were about because they thought we'd try to sell them something. With the big screen they could see the awards listings and other features we were showing off from afar and they felt more comfortable coming up to the table.
Once Rico and Liz got to the table Chris and I took the opportunity to break out and see some of the programming. We managed to catch only two of the many shows we wanted to see but we didn't want to leave the other guys stranded at the table. Let me just say that the people who plan these sessions are evil heartless bastards. They scheduled all the bloody shows we wanted to see at the same time so we had to make some agonized decisions on what we'd have to miss. Based on overheard conversations around the convention we were not the only ones to feel the pain.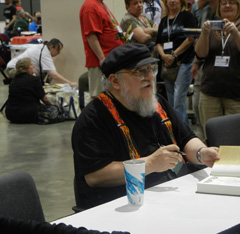 Both of us wanted to go to an author reading and we had to choose between George R. R. Martin and Greg Bear. See what I mean about painful decisions? We settled on Martin but we arrived a few minutes late so I can't tell you what specifically he was reading but it was pretty cool. The only problem was the speaker volume was low and we had to strain a bit to hear him. Everyone in the room was dead silent and eagerly leaning forward to catch every word like acolytes heading their master.
After the reading we went to see Valejo Does Tarot. If you're reading this blog you know who Boris Valejo is. His art is unmistakable and is one of the reasons I got into SF/F in the first place — Chris just likes hot Sci-Fi babes so we were both excited to see him. It turns out that his whole family, wife and two sons, are all artists in their own right and they have been working on a tarot deck for the last few years.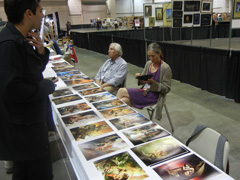 I'm not into Tarot at all but I've always loved the imagery on the cards and their take, as evidenced in the slideshow presentation, is especially awesome. The talk was really interesting too as they described their process and methods. Much of the crowd was focused on the mysticism in the cards but plenty there just wanted to see some great art.
It was a pretty great day overall and today is shaping up to be another one with the crowds expected to grow even larger. More to come!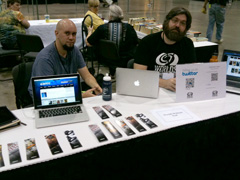 [Our fearless leader Dave has arrived at Worldcon with a few others. This is his first travel journal entry. -Jonathan]
The WWEnd Team finally made it to Reno for Worldcon! We arrived on 4 separate flights from the same city, don't ask, and hooked up at our hotel – our hopelessly gaudy yet comfortable hotel. This place is all Roman columns, huge flat screen televisions, red neon and gold filigree. Everywhere you look there's a flat screen showing you scenes from places you'd rather be – Tuscany, Rome, the Mediterranean. The effect is clearly not what they intended.
I've not seen much of Reno yet but I am loving the weather! It's 30 degrees cooler here than it is back home where we've had 40+ days of 100 degree weather in a row. What a relief to go outside and not be sweating instantly! All of this means we can walk between the hotel and the convention center and we can get out to some restaurants. This is especially important as the hotel/casino eateries are wicked expensive.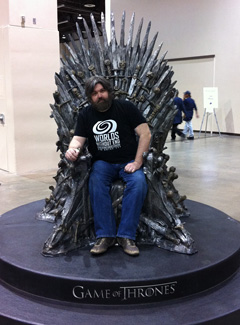 We got to the convention center in the morning and set up our fan table. We had the laptops out to demo the site and had piles of bookmarks there for people to grab. The bookmarks went over really well. Folks liked the designs and even the people who read ebooks, a rather high percentage of the folks we talked to, wanted them so they could get autographs. You can't really get your ebook signed after all.
The site demos were met with enthusiasm as well. We showed off the award pages, especially the Hugo, and the "best of " lists, the resources pages and reading stats. The folks who stayed long enough to see the stats really got excited when we demoed the comparison feature. They especially liked the cover galleries and that they could browse the books like they would in a bookstore. We were hoping to get people to sign up on the spot but there is a lot to see here and they were ready to move on. We did get lots of promises from people who said they would definitely sign up later so we're feeling pretty good about that.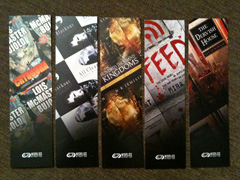 We took turns at the table and wandering the hall and seeing some of the programming. With so many book dealers here it took hours to get around the place. My suitcase will be heavy going back. Of the shows I only managed to get to two of them.
The first was a John Scalzi's slideshow presentation of his trip to the Creation Museum. Visitors to his Whatever blog challenged him to go and donated money for his trip expecting a full "snarkalicious" report on his return. They were not disappointed! The show was a total riot, as you might well imagine, and was packed to the rafters with giddy fans.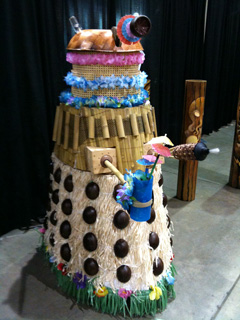 The second show was Dr. Demento! I grew up listening to the Dr. Demento show so I was really keen to see this one. It lived up to the hype. There was Dr. D up on stage in a tux spinning out those funny songs we all know and love and reminiscing of his years in broadcasting. He had a big screen for some videos as well and we were treated to a young Bill Paxton's first acting gig: Fish Heads! Who knew? There was a lot of Weird Al in the program including his Star Wars/American Pie parody and his first ever recording doing an Elton John tune on the accordion. There were also a couple live performances that were really fun though the song about funky smelling con-goes probably made more than a few attendees nervous.
After the display room closed went ventured out for some dodgy Chinese food and then went to a couple of the parties at the hotel. We made brief stops at the Texas, Chicago and Spokane bid parties but were pretty tied by that time so we made one more stop at the bar for a quick beer then turned in for the night.
The previous night was not so great with Rico snoring like a cartoon bear with sleep apnea so we rolled his bed into the bathroom and shut the door. He was a good sport about it. Everyone slept well and now we're off to do it all over again.

That's right, the team here at WWEnd, Chris (whargoul), Rico (icowrich), Liz (Battlestar) and your's truly, are going to Renovation, The 69th World Science Fiction Convention in Reno, Nevada in August. We're very excited to say the least. We've got our Hugo Voter Packets, very nice by the way, and we're looking forward the Hugo presentation, the programming, meeting some authors and just mixing it up with other SF/F fans. Not to mention the gambling.
But it's not all about fun and games, though we'll try to get in as much of both as we can. No, we actually have a plan. We've got a fan table and we're going to demo Worlds Without End to unsuspecting passers-by. The goal is to get the word out and drum up some new members. Just last week we passed 1,000 members, thank you all very much, and we'd like to see that number climb further – and faster. More members makes a better site for everybody. It means more reviews and participation, better novel tagging which improves our sub-genre search, and more folks talking sci-fi and fantasy. That's what we're all about, you know.
Anyway. we're not really sure what to expect, since this is our first con, but we'll have a big screen TV to do the demo and a couple laptops so folks can signup on the spot. I hope the internet connection is decent. As an incentive, we've created a set of 5, limited edition, WWEnd bookmarks as giveaways for anybody that signs up. Not a huge deal but t-shirts are expensive and they ARE pretty cool bookmarks. Even if you don't read physical books anymore.
So, if you're going to be at the convention make sure you come by our table. We'd love to meet some of our members face to face and talk a little treason. You can get some free bookmarks to boot! So, anybody going to be in Reno come August 16th? Any tips for Reno?
It is Hugo nominating time again. If you would like to participate in this year's nomination process, you'll need to become a suporting or attending member of Anticipation, which will host the 2009 Worldcon in Canada. You'll also be able to vote on the 2011 Worldcon location (personally, I hope you vote for Seattle). Once a member, you can nominate up to five works in each category, so get to work!
The big news, however, is the new Best Graphic Story category. Geezers like me might call it the "comic book" category, but I know you afficianados would correct me. Since the Hugo is not technically a science fiction award (fantasy novels also qualify), I wonder how loose the eligibility requirements would be for this one. Is it enough that a work is drawn, or must it be otherworldly? Could Batman receive an award? What about a classy title that isn't techy or fantastic at all, like Ghost World? Me, I'm rooting for the great one: Asterix!