Scott Lazerus is a Professor of Economics at Western State Colorado University in Gunnison, Colorado, and has been a science fiction fan since the 1970s. The Forays into Fantasy series is an exploration of the various threads of fantastic literature that have led to the wide variety of fantasy found today, from the perspective of an SF fan newly exploring the fantasy landscape. FiF examines some of the most interesting landmark books of the past, along with a few of today's most acclaimed fantasies, building an understanding of the connections between fantasy's origins, its touchstones, and its many strands of influence.
---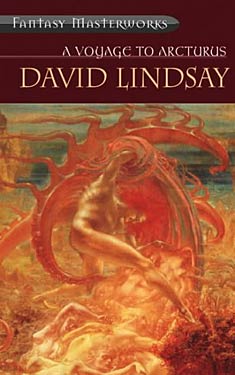 David Lindsay (1876-1945), born in Scotland and relocated to London, was successful in the insurance industry prior to World War I, in which he served, despite being forty years old upon enlistment. The effect of the unprecedented suffering and destruction of the Great War on those who served in it, and on European society, was profound. Whether or not his wartime experience was the impetus, Lindsay decided after the war, despite his age and previous business success, to attempt a full-time writing career, publishing his first novel, A Voyage to Arcturus, in 1920, at which time it was nearly ignored, selling a grand total of 596 copies before slipping into obscurity. His subsequent novels also sold poorly, and he was unable to publish anything after 1932, dying in 1945 as the result of an abscess related to dental neglect.
A Voyage to Arcturus, however, was not entirely forgotten, and the novel gained influential proponents, especially C. S. Lewis, who credited the novel as a major inspiration for Out of the Silent Planet (1938) and its two sequels, which picked up on Lindsay's use of a foreign planet as a setting for metaphysical speculation. It was reprinted in the United Kingdom in 1946, finally receiving a U.S. publication in 1963, followed by a Ballantine paperback reissue in 1968 as part of that publisher's effort to capitalize on the huge success of the paperback publication of The Lord of the Rings by reprinting other older fantasy works. It has remained in print ever since, being chosen by James Cawthorn and Michael Moorcock as one of the hundred best fantasy novels for their 1991 book, and entering the Fantasy Masterworks collection in 2003. In fact, it shows up on just about every critical list of important fantasy novels. It is now in the public domain, and so easily available, including by way of free electronic editions, a good example of which can be found here.