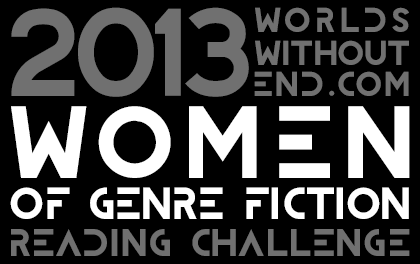 We're now one month into the Women of Genre Fiction Reading Challenge and what a month it was! We were not expecting such a great response and we're just delighted that so many people decided to join in the fun. So thanks to everyone for participating and for spreading the word.
In particular, we want to thank Carl V. Anderson (Carl V.) for the huge write up on his excellent blog Stainless Steel Droppings! It was really fun watching as his post created ripples through the book blogging community and the challenge started showing up on his friends blogs and then their friends blogs and their friends blogs and on and on.  Thanks, Carl, for bringing us so many new members and challenge readers!
So, how did we do in January? Pretty amazing, actually. So far 158 readers have taken the challenge in just one month – compared to 172 total for all of last year's Grand Master Reading Challenge. Our readers have already tagged 119 books as read and posted a whopping 69 reviews! And some very good reviews they were too. We chose 15 of the best to feature in our blog:
These 15 reviewers are now eligible for the January WoGF Review of the Month poll. Click on over to the forum to vote for your top 3 reviews. You must be a WWEnd member to vote though you don't have to be a WoGF participant. Not a WWEnder? Signup today, it's fast and free. The poll will remain open until February 15th and our top 3 picks will receive Amazon gift cards for their efforts: $25 for 1st, $15 for 2nd and $10 for 3rd. May the best reviews win!
Rhonda Knight (Rhondak101) ran monthly stats for last year's challenge and she's back again this year to provide some insight in our group reading habits. Here's Rhonda to tell you about the stats.  Thanks Rhonda!
---
Stats and a Plea for Assistance
I enjoyed doing the stats for the GMRC and wanted to do something similar for the WoGF. The format of this challenge does not lend itself to the same type of statistics. For example, I doubt the number of repeat readers for a single book will reach a very high number. So, as I watched the number of participants go up and up and the number of books being read this month zoom past 20, 50, 100, I wondered: what's everyone reading? Not the title, obviously, but what kind of book is it? I decided that tracking genres would be a worthwhile pursuit. I dashed off a note to Dave with my idea. He (and the guys, presumably) liked the idea. So here we go – Genre Stats.
I decided on twelve genres to track – enough to get some separation, but not so many as to be meaningless (or to drive me insane). Here's my list. All quotations are from the wonderful WWEnd Sub-Genres page.
Hard SF – "is characterized by an interest in scientific detail or accuracy"; pays attention to the hard sciences, biology, chemistry, physics, etc.
Soft SF – "involves the less exact sciences, such as sociology, psychology, or anthropology."
Military SF – "where interstellar or interplanetary conflict and its armed solution (war) make up the main or partial backdrop of the story"
Space Opera/Pulp – set on a faraway planet and ignores the science of space travel in order to keep the adventures moving.
Cyberpunk – "feature[s] advanced technology such as computers or information technology coupled with some degree of breakdown in the social order."
Steampunk – "contains alternate history-style elements of past technologies …combined with futuristic technologies …"
Contemporary Fantasy – "describe[s] stories set in the 'real world' (often referred to as consensus reality) in contemporary times, in which, it is revealed, magic and magical creatures secretly exist, either living in the interstices of our world or leaking over from alternate worlds."
Urban Fantasy – "is a sub-genre of fantasy defined by place. … Many urban fantasies are set in contemporary times and contain supernatural elements. However, the stories can take place in historical, modern, or futuristic periods, as well as fictional settings."
General Fantasy – all other types that are not Urban or Contemporary, such as Swords and Sorcery, High, Dark, etc.
Alternate History/Time Travel – I lumped these two together because many books contain elements of both and they are often hard to separate. Alternate History is defined as "set in a world in which history has diverged from history as it is generally known; more simply put, alternate history asks the question, 'What if history had developed differently?'" Time travel is the genre in which "the concept of moving backward or forward to different points in time, in a manner analogous to moving through space."
Horror – I'm lumping all scary stories here. Most zombies and vampires belong here. Others might end up in one of the Fantasy categories. Definitely more Stephen King than Anne Rice.
Other – the category for books that cause me to say "Yikes, this is weird/speculative but does not fit any of the other categories. What the heck am I going to do with it?"
Using these sub-genres here are the results for January:
Hard SF – 9
Soft SF – 15
Military SF – 5
Pulp/Space Opera-  4
Cyberpunk – 4
Steampunk – 5
Contemporary Fantasy – 21
General Fantasy – 29
Urban Fantasy – 7
Alt. History/Time Travel – 12
Horror – 3
Other – 5
Here's the Plea for Help:
You can help me accumulate our stats more easily if you would take the time to choose some sub-genres on the novel pages as you mark your books as read. If you could use one of the categories I've listed (or something close), it would be very helpful because I've not read all these books and am often relying on what others say about them in blogs and book reviews.
And one final thought: Since there are 12 categories and 12 months, some readers might want to try to read one new female author in each category – add a little variety and extra challenge to the challenge!