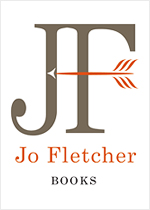 After the success of our recent Gemsigns re-tweet contest, the good folks at Jo Fletcher Books have asked us to help them giveaway some more books.  It seems they have stacks of review copies in their corporate office that they need to clear out to make room for more books.  Can you imagine?  Of course we jumped at the chance to help get those books into the hands of our fans – see how much we love you?
So, starting today, and going every Friday until JFB runs out of books, WWEnd is proud to present Jo Fletcher Fridays.  That's right, every Friday we'll be giving away a different book from the JFB catalog and all you have to do is help us spread the word.  Re-tweet this tweet, like it on Facebook or comment in the blog for your chance to win.  We'll announce the winner, or winners, the following Monday.  One Friday could be a single hard cover copy of The Detainee by Peter Liney while the next could find us giving away 6 paperback copies of Path of Needles by Alison Littlewood.  Pretty sweet, huh?
To kick things off we'll start with 3 trade paperback copies of Swords of Good Men by Snorri Kristjansson, the first book in The Valhalla Saga!  This one is fresh out in the UK but doesn't come out in the US until January of next year so if you're lucky you can get your copy early.
---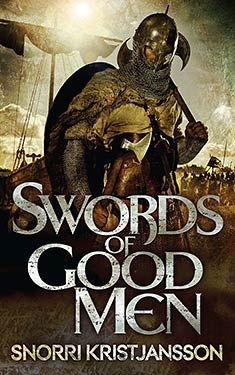 Swords of Good Men
by Snorri Kristjansson
To Ulfar Thormodsson, the Viking town of Stenvik is the penultimate stop on a long journey in this riveting adventure of clashing Viking powers. Tasked with looking after his cousin after disgracing his father, he has traveled the world and now only wants to go home.
But Stenvik is different: it contains the beautiful and tragic Lilja, who immediately captures Ulfar's heart-–but Stenvik is also home to some very deadly men, who could break Ulfar in an instant.
King Olav is marching on Stenvik from the East, determined to bring the White Christ to the masses at the point of his sword, and a host of bloodthirsty raiders led by a mysterious woman are sailing from the north.
But Ulfar is about to learn that his enemies are not all outside the walls.
---
The reviews on Amazon can be hit or miss but this one from Pablo Cheesecake has piqued my interest:
"There is a wonderfully savage chaos in the action scenes. Unsurprisingly, when violence does erupt, it is often swift and brutal. I know that war is a terrible thing, but I think the writing tapped directly into that primal bloodlust that resides somewhere in the dark recesses of my brain."
He goes on to say:
"As an effective counterpoint to all the mayhem of the battlefield, it was a nice surprise to discover that the novel also contains a plethora of more introspective moments. When characters are not engaged in trying to chop bits off of one another they ponder their existence."
You should read the whole review, it's a good one.
So there you have it. Three chances to win what sounds like a great read from a new author. Don't forget to check back Monday to see if you've won and every Friday for more free books from JFB!  We are extremely excited to be able to bring you these books and our many thanks to Jo Fletcher Books for giving us the opportunity.