The Pretender: Rebirth contest has just concluded and we've tallied up our contestants. We had 130 re-tweeters and 33 blog posters which is a new record for one of our contests not to mention a new record for comments in a blog post. Well done, everyone! We put all those names into a spreadsheet and, using a random number generator, we picked our 5 lucky winners:
The Pretender: Rebirth Winners: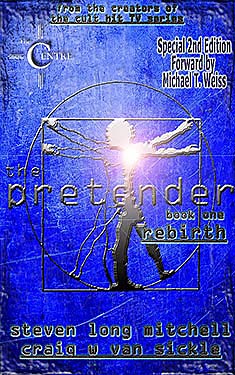 celina kyle
@FaithParker
zeezowee
@zeezowee

#TroublesAreHere
@montanaphantom
Yael

Karen
@kar328
Congrats to all our winners! If you are one of our prize winners please send your full name and snail-mail address to us at "info [at] worldswithoutend [dot] com" so we can send you your prize right away. Be sure to mention The Pretender in your email so we know which prize you're claiming.  If you're not one of our winners I'll bet Steven and Craig would love it if you bought a copy for yourself.  Just saying.
Our thanks to creators Steven Long Mitchell and Craig Van Sickle and all the folks at ThePretenderLives.com for making this contest possible! Perhaps we'll be able to do this again when The Pretender: Saving Luke comes out next year!