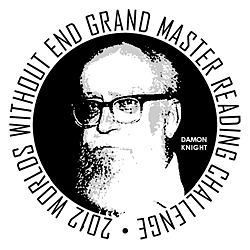 The December GMRC Review Poll is over and our winner is Scott Lazerus (Scott Laz) who actually tied himself in the voting for the 2 reviews he submitted: The End of Eternity by Isaac Asimov and Always Coming Home by Ursula K. Le Guin. Congrats to Scott for exiting the GMRC in style!
For his efforts, Scott has won a GMRC T-shirt, a GMRC button and a set of commemorative WWEnd Hugo Award bookmarks as well as his choice of book from the WWEnd bookshelf. All runners-up will receive a button and a set of bookmarks.
2012 GMRC Finishers:
Some Final GMRC Numbers
So, how did it all turn out? Fantastic! We had really great participation throughout the whole year and learned a lot about running a challenge – info that has already helped us improve on this year's challenge. Here are the final stats and some thoughts on each:
Participants: 174
When we started the challenge we had no idea how many people would sign up. Our expectations ranged from 10 on the low end to 100 in our dreams. We would have been quite happy to hit somewhere in the middle so 174 was a nice surprise. Of the 174 readers 28 read the full 12 books with 17 members who completed the whole challenge by submitting the required 6 reviews (names in bold). Congrats to all our finishers!
Books Read: 737
Taking out the 46 people who signed up but didn't read any books we end up with and average of 5.76 books read per challenge participant. The folks who did not finish the challenge accounted for 401 of the books read while those who did managed the other 336.  Not too bad, I'd say!
Books Reviewed: 230
This is my favorite stat of the bunch! WWEnd members really came through on this count and out of 230 reviews we featured 90 of the best in the WWEnd blog. Well done everyone!
So that's the end of the 2012 WWEnd Grand Master Reading Challenge! I hope you all enjoyed the experience and the great books and we want to thank all our readers for making it such a success. We had a lot of fun, brought in a ton of great new members into our little community and far exceeded our expectations on every level. The success of the GMRC has put us in a really great position for the Women of Genre Fiction challenge this year too. Many of the same readers are back for a second go and early indications are good that we'll blow past last year's numbers across the board.
Happy reading everyone and thanks again for being on the ride with us!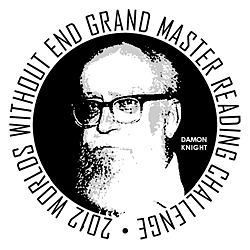 Well, would you believe it? The Grand Master Reading Challenge has finally come to a close and this is the very last GMRC review poll! For December we featured 9 GMRC reviews in the blog and it's time to cast your vote one last time for the best reviews.
Remember, you don't have to be a GMRC participant to vote and the poll will remain open until January 15th so you have plenty of time to read any reviews you missed.
Winner gets the following:
GMRC T-shirt – your choice of colors so long as it's black
GMRC button – you can never have too much flair
Set of WWEnd Hugo Award bookmarks guaranteed to hold your place in any paper book.
Book of your choice from the WWEnd bookshelf – winner gets a list of titles to pick from
Everlasting Glory – So you'll have that goin' for ya. Which is nice.
Runners up will get a GMRC button and a set of bookmarks. Thanks to all our reviewers and good luck!

Guest Blogger and WWEnd Member, Charles Dee Mitchell, has contributed a great many book reviews to WWEnd including his blog series Philip K. Dickathon and The Horror! The Horror! He can also be found on his own blog www.potatoweather.blogspot.com. This is Dee's ninth GMRC review to feature in our blog and the second this month.
---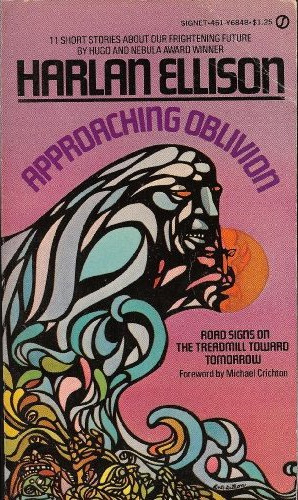 This was my first and is likely to be my only encounter with the writing of Harlan Ellison. It's not as though I didn't know what I was letting myself in for. Ellison's reputation as an old crank, which he wears as a badge of honor, precedes him. I have watched Dreams with Sharp Teeth, the 2008 documentary on him and actually rather enjoyed it. (It might have been very late at night.) But this anthology dates from the mid-1970′s, so he was at most a forty-year-old crank. Old cranks can have undeniable charm and even a sense of gravitas about them. In his forties, Ellison comes off as an over-aged college student with a weighty chip on his shoulder who has just discovered that the world is neither fair nor very nice and goddammit he's going to tell it like it fucking is.
I dislike so much about this book I hardly now where to begin, although the title, the subtitle, and the jacket copy seem like a good place. (I read a book club hardback edition.) A book published today with the title Approaching Oblivion could be a screed by Glenn Beck or any number of right wing hand wringers who lament the disappearance of an America they think existed sometime sixty years ago. Hyperbole swings both ways. Ellison caps it off with a subtitle, Road Signs on the Treadmill Toward Tomorrow, a phrase that evokes a self-pitying Jeremiah. Then there is the predictably slavish praise of the promotional copy on the book's inside flaps. Apparently the New York Times once described Ellison as "relentlessly honest," a fact relentlessly repeated in almost everything you read about him. Buried on the back flap is this irrelevant and irritating nugget. "[Ellsion} created a series called Starlost and walked away from $93,000 in profits when the producers departed from his original concept." Mr. Ellison, you are a pillar of integrity. I assume he did accept payment for the episode of The Flying Nun he wrote in 1968. It actually sounds pretty good, a kinky mix that has Sister Bertrille crash-landing on a desert island and patching up the relationship between the shipwrecked lovers she finds there.

Scott Lazerus came to Worlds Without End looking for a good list of books. He found David Pringle's Best 100 Science Fiction Novels to his liking and is currently working his way through the list. He has posted man fine reviews for WWEnd including several for the GMRC. Be sure to check out Scott's excellent blog series Forays into Fantasy too!
---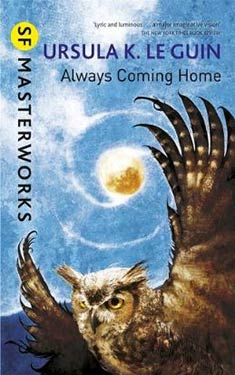 To borrow from the title of one of the first sections of Always Coming Home, this book is an "archaeology of the future." I purposely use the term book rather than novel, since the structure of Ursula K. Le Guin's 1985 work makes it more of a collage than a narrative, though it does tell a story, and it certainly has a theme. The story is that of an entire people—the Kesh, the People of the Valley, living in the far distant future somewhere in Northern California. A changed climate has created an inland sea east of the Valley, and the people who live there are still dealing with the legacy of the chemical wastes left behind by a long-gone civilization whom the Kesh think of as people "who lived outside the world" and whose poisonous lifestyle has led to their being remembered in legends and visions as people who (literally) had their heads on backwards.
The Kesh civilization may be the ultimate working out of Le Guin's utopian ideals. Her best-known science fiction novels—The Left Hand of Darkness and The Dispossessed—both posit alien societies that encourage readers to consider alternative gender roles and economic systems. Her subtitle for The Dispossessed—"An Ambiguous Utopia"—could apply just as well to Always Coming Home. The inability of the Kesh to comprehend a society like ours is due to their commitment to a post-industrial environmentally sustainable way of life (though they would never use such terminology, thinking of themselves as merely "living in the world"). That way of life—reminiscent of a settled Native American culture—is centered on a compatibility with nature. Nothing is taken that is not needed. The wealthiest are those who give the most, not those who accumulate possessions. A low human population density is scrupulously maintained. Communities are organized around both families and occupations, with each individual encouraged to pursue the work most amenable to her. Everyone works, and labor is not resented. Authority is entirely decentralized, and sexism is nonexistent. The Kesh are aware of the possibility of more advanced technologies, but choose not to pursue them, failing to see the point, and unwilling to sacrifice their environment. Their society works, and the reader understand why they would see us as "backward-heads." As in the other two novels mentioned above, Le Guin invites the reader to question our own society by asking us to consider the possibility of a workable alternative. One of the great attractions of science fiction is its ability to encourage us to consider how things could be different, and Le Guin does this masterfully in Always Coming Home, though not in a way that science fiction readers are used to.

Chris Uhl (chuhl) can't remember a time when he wasn't a science fiction fan. He has a B.A. in Classics from Vassar College and an M.A. in English Literature from the University of Virginia. He has worked as a teacher, a legal assistant, a college development officer, a salesman, and a film extra. Chris may be the only WWEnd reviewer who has no blog. This is his fifth GMRC review to feature in the WWEnd blog and completes his challenge!
---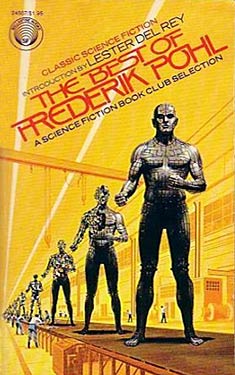 The Best of Frederik Pohl, edited by Lester Del Rey, collects nineteen stories written during the first half century of Pohl's life.
Tunnel Under the World – Why does Guy Burckhardt keep living June 15th over and over again? Pohl mixes one of his favorite themes, the use and abuse of advertising, with Cold War paranoia and keeps ratcheting up the tension until the triple-twisting climax. One of the best stories in the collection.
Punch – A quick little story about an alien who comes to earth and freely offers technological, medical, and financial secrets that propel humanity into a new golden age. But what's in it for him? Like many of the stories in this collection, the real point of the story is the shocking twist at the end. It works well here, but sometimes you get the impression that the story exists just to set up the twist, and the tale is wagging the dog.
Three Portraits and a Prayer – Pohl has a real gift for characterization, and he's not afraid to tell this and several other stories through the viewpoint of a rather unpleasant person, in this case, an arrogant doctor. The characterization of the narrator is the main attraction here, not the plot. But I do like this line: "If gravity itself grows old and thin, so that the straggling galaxies themselves weaken as they clutch each other, it seems somehow a much lesser thing that we too should grow feeble."

Daniel Roy (triseult), has contributed over 50 reviews to WWEnd including this, his fifth GMRC review to feature in the WWEnd blog. Daniel is living his dream of travelling the world and you can read about some of his adventures on his blog Mango Blue.
---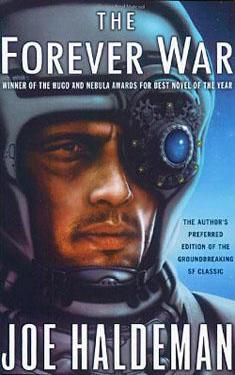 Great SF stories stand the test of time by transcending the period from whence they emerged. The Forever War, oddly enough, is timeless precisely because it is firmly rooted in a key period of world history. It manages to evoke, to this day, the horrors of Vietnam and the pain of returning veterans, and in so doing transcends them into a timeless discussion about the futility of war and how it uses up human lives.
I first read The Forever War in comicbook form, thanks to Marvano's amazing adaptation. Being a Belgian work, and thanks to its ligne claire style, the adaptation felt more universal, less rooted in the American war experience. The novel itself, though, is firmly American. You can glimpse the mind of a male Vietnam war vet as the story unfolds. This may not make the novel as universal as the comicbook adaptation, but it makes for a more powerful reading because of its roots in the American experience.
That's not to say it's a bad thing. It's another great example how even SF writers should write what they know. A lot of the SF concepts work perfectly as allegory for the soldier experience, including the painful culture shock of returning home. The second part, during which Mandella returns home to a world he no longer knows, is gripping and powerful. I bet it must resonate a great deal with veterans of Afghanistan and Iraq.

Guest Blogger and WWEnd Member, Charles Dee Mitchell, has contributed a great many book reviews to WWEnd including his blog series Philip K. Dickathon and The Horror! The Horror! He can also be found on his own blog www.potatoweather.blogspot.com. This is Dee's eigth GMRC review to feature in our blog.
---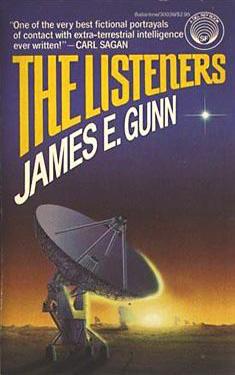 A few pages into The Listeners I thought I was settling down for a pleasantly boring experience of 1970′s science fiction. But halfway through the book, my respect for what James Gunn was attempting — and accomplishing — began to grow. He writes with subdued passion about the commitment of scientists to what many outside their world consider either a fool's errand or an actual threat to the functioning of society. His "listeners" who work on The Project are fictional incarnations of those who devote their lives to SETI, the Search for Extra Terrestrial Intelligence."
The novel, assembled from short stories published in Galaxy and The Magazine of Fantasy and Science Fiction was published in 1974. It opens in 2025, when The Project has existed for fifty years without a result. But in 2027 a message comes through and a reply is formulated. The message is from the star Capella in the constellation Auriga, forty-five light years from Earth. Our reply will take forty-five years to reach the Capellans, and an additional wait of at least forty-five years will follow before we receive a response.
A novel based around almost a century of waiting is not going to be a real page turner, and much of the human interest elements Gunn brings to his plot are either predictable or awkwardly handled. What makes The Listeners a compelling, modernist novel is its use of that extensive time frame, a structure that means characters realize they will not live to see the next stage of their work. Each chapter focuses on an individual who may work for the The Project, but also includes the President of the United States and a fiery Solitarian minister who bases his theology on the fact that man is God's only intelligent creation.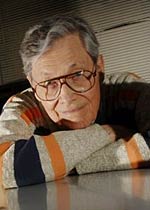 During the course of the narrative, Gunn gives us glimpses of a world undergoing considerable social and political change, changes based largely on the global acceptance of the fact the "we are not alone." He also uses quotes from real and imagined scientists alongside works by poets and fiction writers to evoke the intellectual ferment The Project arose from.
In the final chapter, representatives from around the world converge of The Project to hear the Capellan reply. Gunn's conclusion is emotional, combining both the ending of a civilization and a breathtakingly rich trove of material from that distant galaxy. By 2118, there are in some cases third generation representatives of Project employees on hand. They work in a building that has seen better days, but immediately after the glare of publicity surrounding the Cappellan reply, they return to that building to continue listening for however long it will take the next message to come through. Now they are focusing on the Crab Nebula.

Jeremy Frantz (jfrantz) reviews SF/F books on his blog The Hugo Endurance Project where he has given himself just 64 weeks to read every Hugo Award winner. This is his ninth GMRC review to feature in the blog.
---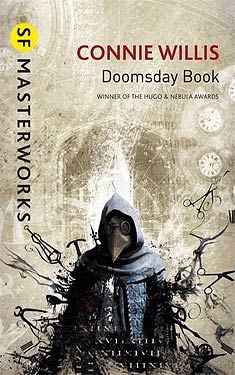 Time travel happens. And if you're an excitable undergad historian that means you can have the chance to visit your very favorite times throughout history. For Kivrin Engle, that means the Oxford of medieval England – 1320 to be exact. When the drop is botched and the entirety of Oxford-Present comes down with a deadly virus, Kivrin's professor, James Dunworthy is racing against the clock to save her, whether she needs saving or not. Meanwhile, Kivrin herself must cope with translation issues, debilitating sickness and some pretty intense experiences of humanity.
Kivrin or Dunworthy?
The key to whether one enjoys Doomsday Book is in the narrative shifts.
Despite overwhelming sickness, darkness, dirtiness and you know… the possibility of being raped, burned at the stake, or contracting the plague, the tale of Kivrin's journey to the fourteenth century was so vibrant and emotional, and the townsfolk so distinctly human, that it was probably one of the more compelling stories for me. Mostly, Kivrin herself was just a great experience.

Guest Blogger and WWEnd member, valashain, reviews science fiction and fantasy books on his blog Val's Random Comments which we featured in a previous post: Five SF/F Book Blogs Worth Reading. Val has posted many great reviews to WWEnd and this is his tenth for the GMRC. Be sure to visit his site and let him know you found him here.
Editor's Note: Val posted this review two months ago and we missed adding it to the blog at that time.
---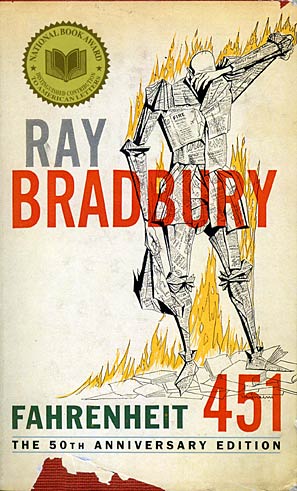 Last month I ran a poll to help me decide which book should be reviewed work number 300 on Random Comments and tied it to the Grand Master Reading Challenge for which I still have to read a couple of novels. Ray Bradbury won. I had expected one of the big names I hadn't covered it to get it, perhaps Jack Vance or Robert Heinlein but, as one commenter pointed out, with Bradbury's passing at the age of 91 just a few months ago, perhaps it is not so surprising he come out the favourite. I haven't read anything by Bradbury before so I figured I'd read the book he is best known for. Fahrenheit 451 was published in 1953 so it's too old to have won any of the major science fiction awards but it has been added to countless list of best books in science fiction and is well regarded outside the genre. It is one most influential dystopian novels, often mentioned in one breath with Orwell's 1984 and Huxley's Brave New World. In short, a book with quite a reputation.
Fahrenheit 451 is a dystopian novel set in a future America where books are outlawed and a fireman's job is to burn them instead of putting out fires. One such man is Guy Montag, who unquestionably burns books, the source of all dissent in society. Until he meets the 17-year-old Clarisse that is. She talks to him about ideas that make no sense and about doing things that no rational, we ll adjusted man should even consider. She makes Montag thing and without him understanding why, he develops an aversion against his job, starts questioning his life and develops a curiosity about books. Montag is in trouble.

Guest Blogger, Allie McCarn, reviews science fiction and fantasy books on her blog Tethyan Books. She has contributed many great book reviews to WWEnd including several Grand Master reviews featured in our blog.

---
Genesis by Poul Anderson
Published: Tor, 2000
Awards Won: 2001 John W. Campbell Memorial Award
The Book:
"Imagine a future where humanity does make it to the stars, but must cease to be physically human in order to do so. The exploration can only be undertaken by machines, and by humans—such as astronaut Christian Brannock—who allow their consciousness to be uploaded into those machines. The universe of the far future is a web of machine consciousnesses, grown immensely powerful and complex, which communicate across the emptiness of space.
These consciousnesses still feel concern for their origin species—humanity—and their origin planet—Earth. When Earth's AI, Gaia, decides to allow the planet to die, the others do not understand. There appear to be gaps in the data she is transmitting, either by accident or design. A smaller consciousness called Wayfarer, which contains the ancient astronaut Christian Brannock, is physically dispatched to Earth. Through closer examination of Gaia's collective knowledge, he must try to understand her decision—or uncover her true motives." ~Allie
This is my final novel for WWEnd's Grand Master Reading Challenge, and my first experience of Anderson's writing. Poul Anderson was a highly prolific and celebrated author, whose work spanned from the first Golden Age of science fiction to the beginning of the 21st century. I imagine his style must have changed greatly over the course of his life. I would be interested to see how Genesis, a novel from his later life, would compare to his earlier work.