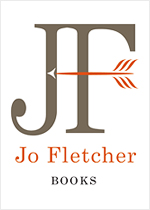 The Astra giveaway we did a few weeks back went so well we're back already with another one to prove it wasn't a fluke. We have 5 autographed hard cover copies, that's right, hard cover, of Traitor's Blade by Sebastien de Castell from the awesome folks at Jo Fletcher Books.
This is the first book in de Castell's four book series, Greatcoats, and it looks like a winner.  Nothing like swords and a blood splatter to or two to get you set for a fantasy adventure.
By now you know how this works, all you have to do is re-tweet this tweet:
RT to win one of 5 signed hard cover copies of Traitor's Blade by Sebastien de Castell: http://t.co/j11qJWpecT #JFF pic.twitter.com/PppNsm2yTY

— Worlds Without End (@WWEnd) January 31, 2014
…or comment here in the blog to enter the contest. Do both and double your chances! It's about as easy as we can make it. We'll have a random drawing from our re-tweeter pool and announce the winners next Friday so tweet away and don't forget to tell your friends and check back to see if you've won!  Please note that the books will not be mailed to our winners until the end of February so expect a bit of a delay after the contest.
---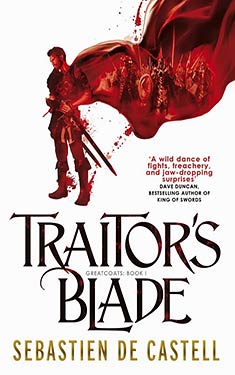 Traitor's Blade
by Sebastien de Castell
The first in a new action-filled quartet Traitor's Blade follows Falcio, the first Cantor of the Greatcoats.  Trained in the fighting arts and the laws of Tristia, the Greatcoats are traveling Magisters upholding the King's Law.  They are heroes.  Or at least they were.
When the Greatcoats stood aside and allowed the Dukes to take the kingdom and impale their King's head on a spike that all changed.  Now Tristia is on the verge of collapse and the barbarians are sniffing at the borders whilst the Dukes bring chaos to the land.
The Greatcoats are scattered far and wide, reviled as traitors, their legendary coats in tatters.  All they have left are the promises they made to King Paelis, to carry out one final mission.  But if they have any hope of fulfilling the King's dream the divided Greatcoats must reunite, or they will again have to stand aside as they watch their world burn . . .
---
What people are saying:
"A wild dance of fights, treachery, and jaw-dropping surprises." — Dave Duncan, Bestselling Author of King of Swords
"De Castell combines the best of Joe Abercromie and Alexandre Dumas.  He can break your heart and spike your adrenalin with the same sentence.  Riveting." — Violete Malan, Author of Path of the Sun and The Storm Witch
The best of Joe Abercrombie and Alexandre Dumas?  This I gotta read!  What do you think?